SHERIFF'S OFFICE UNVEILS THIRD PRESCRIPTION DRUG COLLECTION SITE
07/26/2019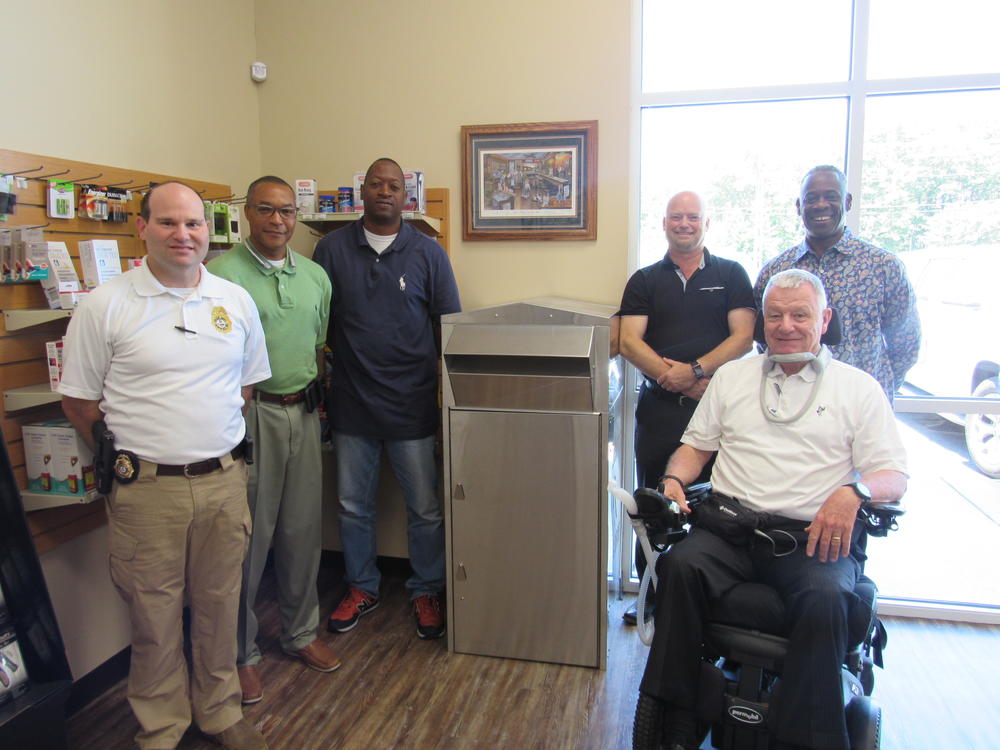 (left to right) White Hall Chief of Police Greg Shapiro, Jefferson County Major of Operations Randy Dolphin, Commander of Tri-County Drug Task Force Yohance Brunson, Owner of Doctor's Orders Pharmacy Lelan Stice, Owner of Amazing Restorations Wil Jenkins, and Simmons Foundation Chairman and former Simmons First National Corporation Chairman and CEO Tommy May
FOR IMMEDIATE RELEASE
MEDIA CONTACT
Alicia Dorn
Communications Director/Public Information Officer
Office:870-541-5351/Cell:870-329-5638
Email: alicia.dorn@jeffcoso.org
SHERIFF'S OFFICE UNVEILS THIRD PRESCRIPTION DRUG COLLECTION SITE: Jefferson County, AR – July 26, 2019 – The Jefferson County Sheriff's Office in conjunction with the Tri-County Drug Task Force unveiled a third prescription drug collection bin on Thursday, July 25, 2019 at Doctor's Orders Pharmacy located in White Hall.
"We are happy to be a part of making the prescription drug bins accessible to the community," said Lelan Stice, owner of Doctor's Orders Pharmacy. "People call us all the time to inquire about how they can get rid of their prescription medications, so the prescription drug collection bins are a great resource for the community."
The Jefferson County Sheriff's Office along with the Tri-County Drug Task Force began participating in National Prescription Drug Take-Back events in September 2010. Since the summer of 2010, Arkansas has collected 173 tons of medications from Drug Take-Back Day events. Although Arkansas is 33rd in population, the state ranks 3rd nationally in pounds collected per capita and 13th in total weight collected.
"The drug collection bins are very instrumental in helping us in our daily routine of getting unused prescription medications off the street," said Yohance Brunson, Commander of Tri-County Drug Task Force. "Because of Mr. May and Simmons Bank, who graciously donated the prescription bins, the Jefferson County Sheriff's Office collects between 50 and 75 pounds of unused and unwanted prescription drugs on a monthly basis."
The 17th Drug Take Back Day, which was held on April 27, 2019, resulted in a total medications collection of 469 tons nationally, and 14.43 tons of that came from Arkansas. The state ranks 5th in the number of Drug Take-Back Day collection sites with 310 and ranks 10th in the amount of law enforcement agencies participating in the semi-annual Drug Take Back Day with 184.
"The Prescription Drug Take-Back Initiative addresses a vital public safety and public health issue," Jefferson County Sheriff Lafayette Woods, Jr. said. "Medicines that languish in home cabinets are highly susceptible to diversion, misuse, and abuse. A great number of people in our community have been directly or indirectly affected by prescription drug abuse and misuse, and this event allows local residents to be part of the solution. Disposing of unused or unwanted medications in a safe and secure environment is a critical step in fighting this devastating public safety health problem," Woods said.
Through funds provided by J. Thomas "Tommy" May, Simmons Foundation Chairman and former Simmons First National Corporation Chairman and CEO, the sheriff's office was able to purchase four (4) Prescription Drug Take-Back receptacles at a cost of $9,000.00 per collection receptacle.
"I am thankful and happy for everything our law enforcement agencies are doing," said May.
Chairman May has supported the sheriff's office and its efforts since the very onset of the Drug Take-Back Initiative, never hesitant to identify funding to support the purchase of the receptacles. As Chairman and CEO of Simmons, May attended a meeting with Sheriff Woods and former Sheriff Gerald Robinson where he shared his awareness related to the opioid epidemic and how the misuse of certain prescription medications has destroyed the lives of so many. Without the support of Chairman May and our extended family at Simmons, this would not have been possible. "We as an agency are eternally grateful for leaders like Chairman May," Woods expressed.
Originally, the collection bins were to be placed at what was formerly known as Brookshire's Food & Pharmacy stores located throughout Jefferson County in order to provide citizens with multiple centrally located places to drop off their unused and expired medicines. However, Brookshire's, whose W. 28th Ave/Hazel store location has been utilized regularly by JCSO during annual drug take-back day initiatives, had concerns about the permanent placement of the bins just months after they had originally agreed to the permanent placement prior to the JCSO acquisition.
According to Sheriff Woods, the sheriff's office was also faced with yet another setback due to pending regulations to implement the Secure and Responsible Drug Disposal Act of 2010, which was passed by Congress and served as an amendment to the Controlled Substances Act to allow an "ultimate user" of controlled substance medications to dispose of them by delivering them to entities authorized by the Attorney General to accept them. The Act also allows the Attorney General to authorize long term care facilities to dispose of their residents' controlled substances in certain instances. Regulations were not approved until September of 2014.
Among the goals for DEA for implementing Secure and Responsible Drug Disposal Act of 2010 was to authorize certain DEA registrants (manufacturers, distributors, reverse distributors, narcotic treatment programs, retail pharmacies, and hospitals/clinics with an on-site pharmacy) to modify their registration with the DEA to become authorized collectors. The Act also allowed collectors to operate a collection receptacle at their registered location, and collectors with an on-site means of destruction may operate a mail-back program.
Also in attendance at the unveiling of the prescription drug collection bin was White Hall Chief of Police, Greg Shapiro who added, "Anything WHPD can do with our law enforcement partners to keep unused, unwanted prescription medications off the streets and away from children is a benefit to us all."
There are now a total of three (3) permanent drug collection boxes located at:
The Jefferson County Sheriff's Office- 410 E. 2nd Ave. Pine Bluff, AR 71601
Doctor's Orders Pharmacy- 2302 W. 28th Ave. Pine Bluff, AR 71603
Doctor's Orders Pharmacy- 7240 Sheridan Rd. White Hall, AR 71602
To find the controlled substance public disposal location nearest you, please Click Here.