SHERIFF'S OFFICE PARTNERS WITH BLUE CROSS AND BLUE SHIELD FOR TRUNK-OR-TREAT
10/02/2019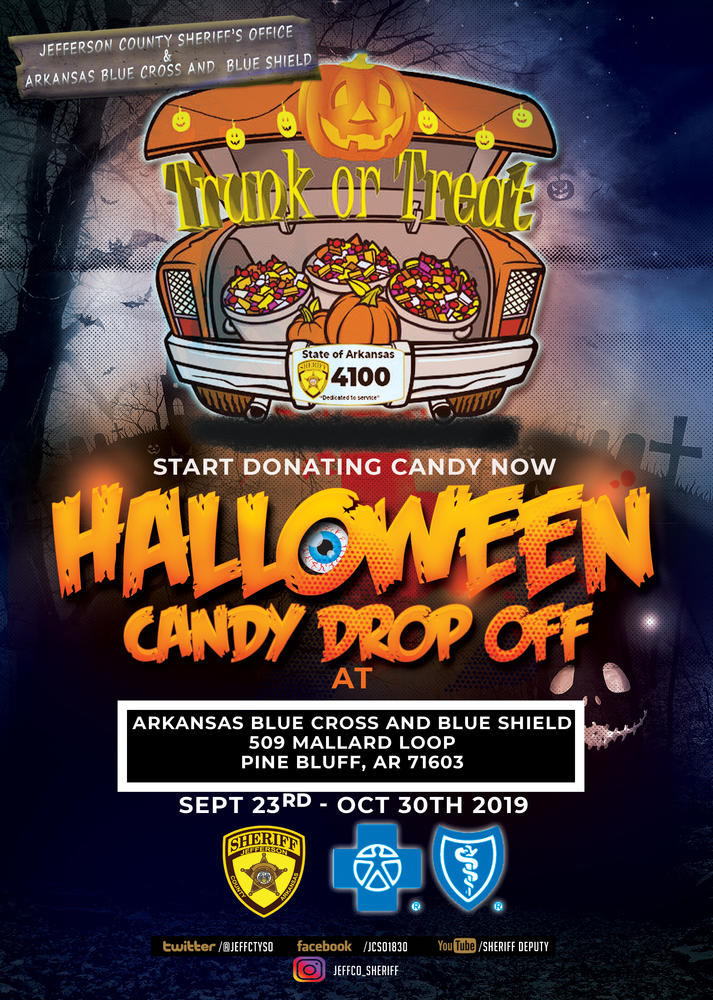 FOR IMMEDIATE RELEASE
MEDIA CONTACT
Alicia Dorn
Communications Director/Public Information Officer
Office: 870-541-5351/Cell: 870-329-5638
Email: alicia.dorn@jeffcoso.org
SHERIFF'S OFFICE PARTNERS WITH BLUE CROSS AND BLUE SHIELD FOR TRUNK-OR-TREAT - Jefferson County, AR - October 2, 2019 - The Jefferson County Sheriff's Office has partnered with Arkansas Blue Cross and Blue Shield for the Annual Trunk-or-Treat which will be held at New St. Hurricane Baptist Church on October 31st from 6-8 p.m. Arkansas BCBS will serve as a designated candy drop-off location. Candy donations will be accepted at the office located at 509 Mallard Loop through October 30th. The office hours are Monday - Friday 9 a.m. - 6 p.m. All donations will be given to children participating in the Trunk-or-Treat event.
Also known as "Halloween Tailgating," Trunk-or-Treat has emerged in recent years as a competitor to traditional door-to-door trick-or-treating across the United States. Instead of walking from house to house, children are taken to a parking lot where they go from car to car collecting candy. The cars are decorated with Halloween themes. Often the participants are screened in advance to increase safety, and only sealed, packaged food is permitted to be distributed at the event, which is usually sponsored by an organization with a large parking lot.
Trunk-or-Treating is usually preferred during Halloween due to its increased safety and convenience. It is a way to celebrate Halloween with the whole family without parents having to worry about whose house their kid is going to, or if their kid will get hit by a car or get lost in the woods.
While Trick-or-Treating and Trunk-or-Treating are fun Halloween traditions, it's important to ensure safety. Here a few tips to keep in mind while having fun:
Go in Groups - Plan a group outing for Halloween this year. There's always safety in numbers, so gather as many friends and family members as you can and go trick-or-treating or trunk-or-treating together. It's always safer when you have more people to look out for cars and keep an eye on little ones. Plus, the more the merrier!
Go Out Before Dark - There is plenty of time in the early evening to trick-or-treat and trunk-or-treat before the sun goes down. Take the kids before it gets dark, and then have a gathering at someone's house if you don't want the fun to end. A family-friendly Halloween party is the perfect way to end the night on a safe note.
Be Attentive - It's easy to assume drivers will be paying attention and looking out for trick-or-treaters on Halloween night. But it's best to be extra cautious and attentive while you're out with the kids. Put away the phones and electronics while you're out and about just to be safe.
Avoid Obstructions to Vision - Dressing up is a lot of fun, and there are endless opportunities for costumes. But try to avoid bulky masks that may obstruct your vision or your child's vision. It's important to maintain a full line of sight while you're walking around at night.