SHERIFF'S OFFICE PARTNERS WITH LOWE'S TO DONATE WATER TO COMMUNITY RESIDENTS
02/25/2021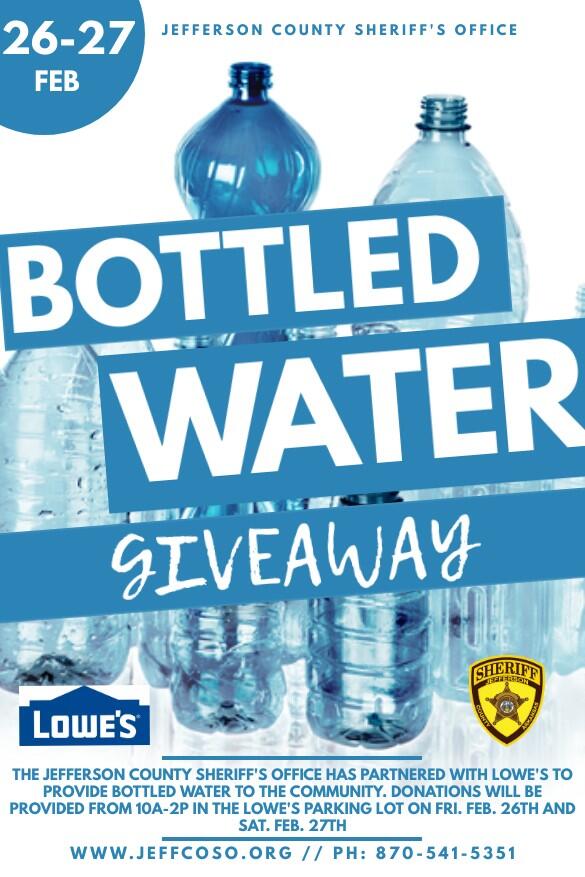 FOR IMMEDIATE RELEASE
MEDIA CONTACT
Alicia Dorn
Communications Director/Public Information Officer
Office: 870-541-5351/Cell: 870-329-5638
Email: alicia.dorn@jeffcoso.org
SHERIFF'S OFFICE PARTNERS WITH LOWE'S TO DONATE WATER TO COMMUNITY RESIDENTS: Jefferson County, AR - February 25, 2021 - The Jefferson County Sheriff's Office has partnered with Lowe's to provide bottled water to the community.
Coswellyn Chambers, Lowe's District Manager and Jose Rodriguez, Lowe's Pine Bluff Store Manager have donated bottled water to be distributed to the community. JCSO will participate in the distribution efforts.
"We are honored to partner with Lowe's and assist with giving back and making a difference in our local community," said Sheriff Lafayette Woods, Jr. "The support from our business community has been very much appreciated. We simply could not accomplish our mission without community support like this. It is always an honor to serve the community in more ways than one."
The donations will be provided Friday, February 26th and Saturday, February 27th from 10A - 2P in the Lowe's Parking Lot located at 2906A E. Harding in Pine Bluff.