JEFFERSON COUNTY SHERIFF'S OFFICE SEEKS ASSISTANCE LOCATING RUNAWAY JUVENILE
05/27/2021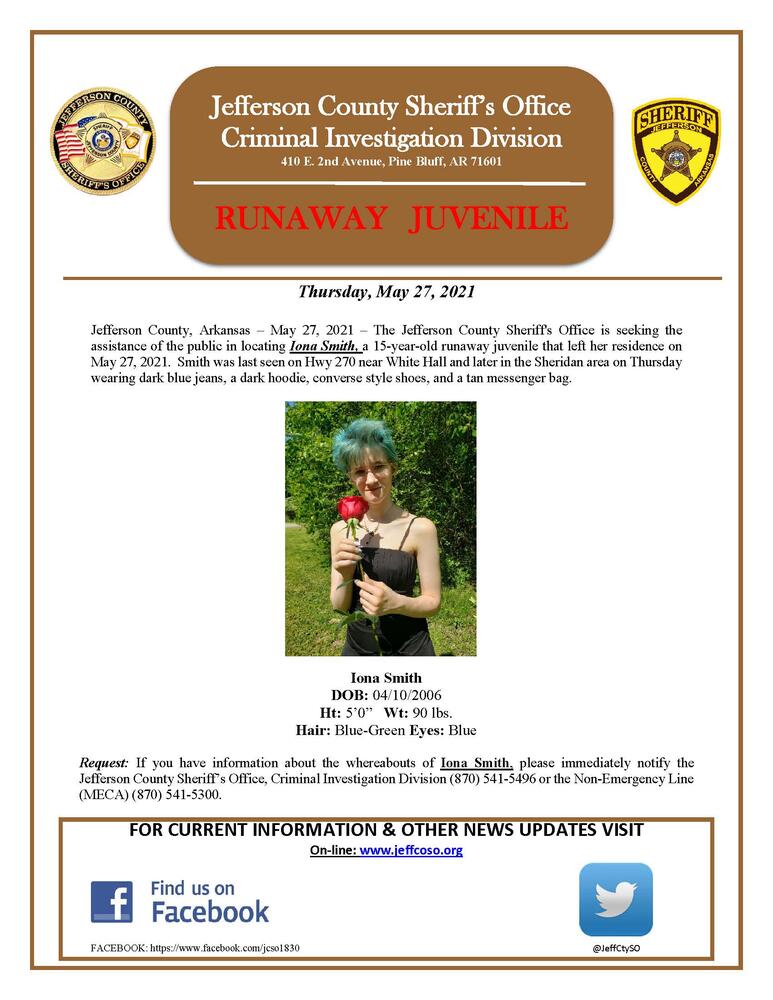 FOR IMMEDIATE RELEASE
MEDIA CONTACT
Major Gary McClain
Office: 870.541.5351 / Cell: 870.329.5638
Email: gary.mcclain@jeffcoso.org
---
JEFFERSON COUNTY SHERIFF'S OFFICE SEEKS ASSISTANCE LOCATING RUNAWAY JUVENILE: Jefferson County, Arkansas - May 27, 2021 - The Jefferson County Sheriff's Office is seeking the assistance of the public in locating Iona Smith, a 15-year-old runaway juvenile that left her residence on May 27, 2021. Smith was last seen on Hwy 27 near White Hall and later in the Sheridan area on Thursday wearing dark blue jeans, a dark hoodie, converse style shoes, and a tan messenger bag.
Smith is described as approximately 5 feet 0 inches tall and weighs approximately 90 pounds. Her hair is dyed blue-green and she has blue eyes.
If you have any information of Iona Smith's whereabouts please notify the Jefferson County Sheriff's Office - Criminal Investigation Division at 870.541.5496 Mon-Fri 8:30 a.m. - 5:00 p.m. or the 24/7 Non-Emergency Dispatch at 870.541.5300. Information can be shared via email at tips@jeffcoso.org.