JEFFERSON COUNTY SHERIFF'S OFFICE SEEKS ASSISTANCE LOCATING RUNAWAY JUVENILE
05/30/2021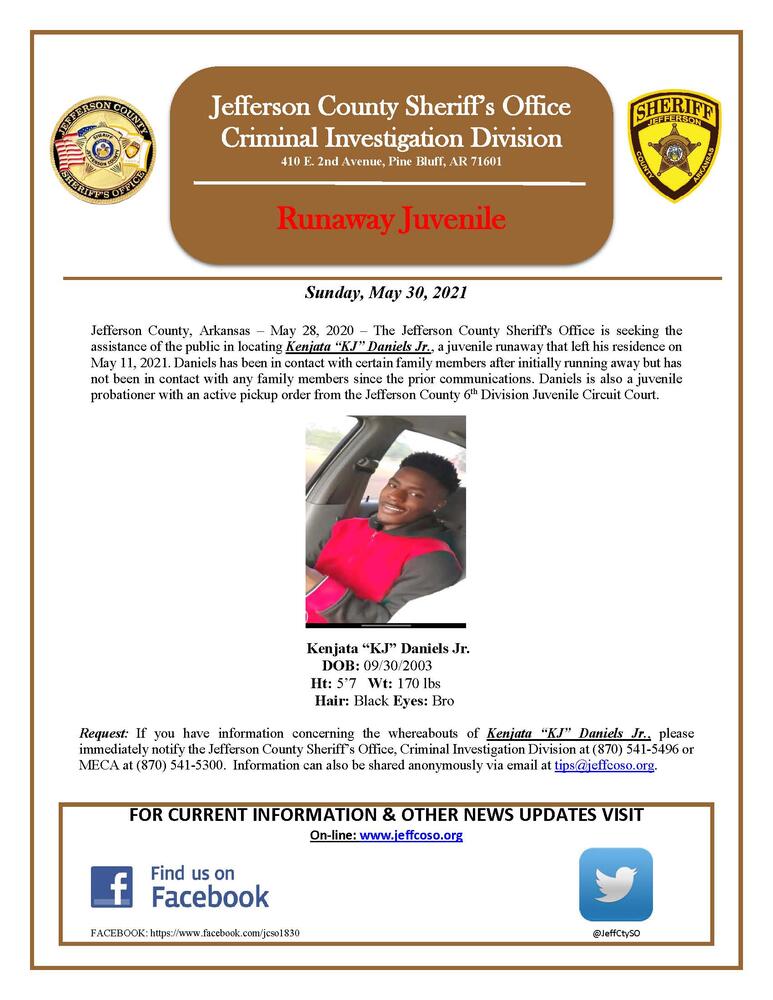 FOR IMMEDIATE RELEASE
MEDIA CONTACT
Major Gary McClain
Office: 870.541.5351 / Cell: 870.329.5638
Email: gary.mcclain@jeffcoso.org
---
JEFFERSON COUNTY SHERIFF'S OFFICE SEEKS ASSISTANCE LOCATING RUNAWAY JUVENILE: Jefferson County, Arkansas - May 30, 2021 - The Jefferson County Sheriff's Office is seeking the assistance of the public in locating Kenjata "KJ" Daniels Jr., a runaway juvenile that left his residence on May 11, 2021. Daniels has been in contact with certain family members after initially running away but has not been in contact with any family members since the prior communications. Daniels is also a juvenile probationer with an active pickup order from the Jefferson County 6th Division Juvenile Circuit Court.
Daniels is described as approximately 5 feet 7 inches tall and weighs approximately 170 pounds. His hair is black and he has brown eyes.
If you have any information concerning the whereabouts of Kenjata "KJ" Daniels, Jr., please notify the Jefferson County Sheriff's Office - Criminal Investigation Division at 870.541.5496 Mon-Fri 8:30 a.m. - 5:00 p.m. or the 24/7 Non-Emergency Dispatch at 870.541.5300. Information can be shared via email at tips@jeffcoso.org.