SEARCH LEADS TO CONFISCATED CONTRABAND AT DETENTION CENTER
06/15/2021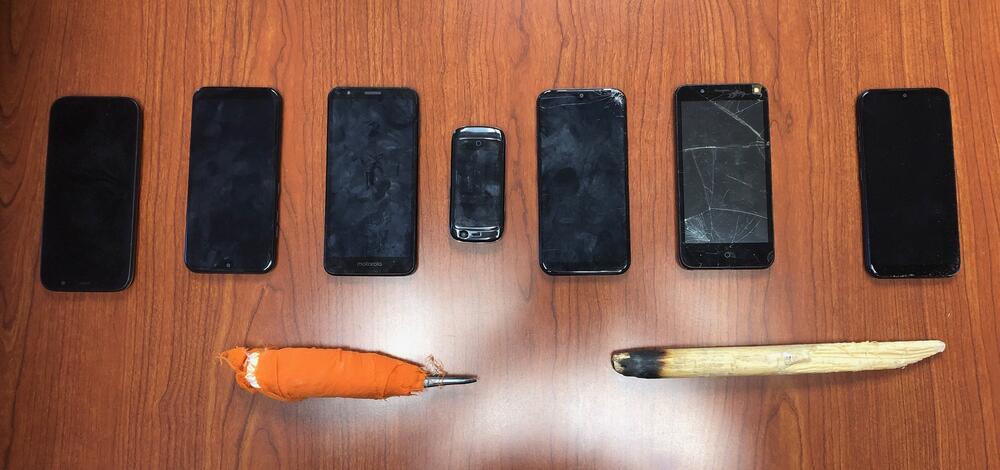 FOR IMMEDIATE RELEASE
MEDIA CONTACT
Major Gary McClain
Office: 870.541.5351 / Cell: 870.329.5638
Email: gary.mcclain@jeffcoso.org
---
SEARCH LEADS TO CONFISCATED CONTRABAND AT DETENTION CENTER: Jefferson County, Arkansas - June 15, 2021 - The Jefferson County Sheriff's Office assisted by the Tri-County Drug Task Force and the Arkansas Department of Corrections Central K-9 Unit conducted a cell and area search operation at the W.C. "Dub" Brassell Adult Detention Center on Monday. The search resulted in the recovery of multiple cell phones, improvised weapons (shanks), and cell phone chargers that were being concealed in the cells and day rooms where detainees are housed.
"We are committed to conducting such random, yet organized, search operations because contraband, like the items found on Monday, leads to the disruption of order and security in the detention center", said Sheriff Lafayette Woods, Jr.
Also, recently investigators have discovered a new and very bold method of introducing drug contraband into the detention facility. It was discovered during an inspection of the incoming mail addressed to detainees that certain pieces of mail had been laced by soaking the paper with cannabis oil / Tetrahydrocannabinol (THC). The chemical THC is responsible for most of marijuana's psychological effects.
"We will continue to conduct searches like these to ensure the safety of our employees and the detainees" said Sheriff Woods. "Anyone who is identified as a suspect or as an accomplice will be arrested and a case file submitted to the Prosecuting Attorney's Office for the filing of formal charges."
Arkansas Code Annotated provides in § 5-54-119 that "Furnishing, Possessing, or Using a Prohibited Article - Delivering a Prohibited Article" is a Class B felony with a sentence of not less than five (5) years nor more than twenty (20) years.