TWELVE DETAINEES GRADUATE FROM ADDICTION RECOVERY PROGRAM
07/08/2021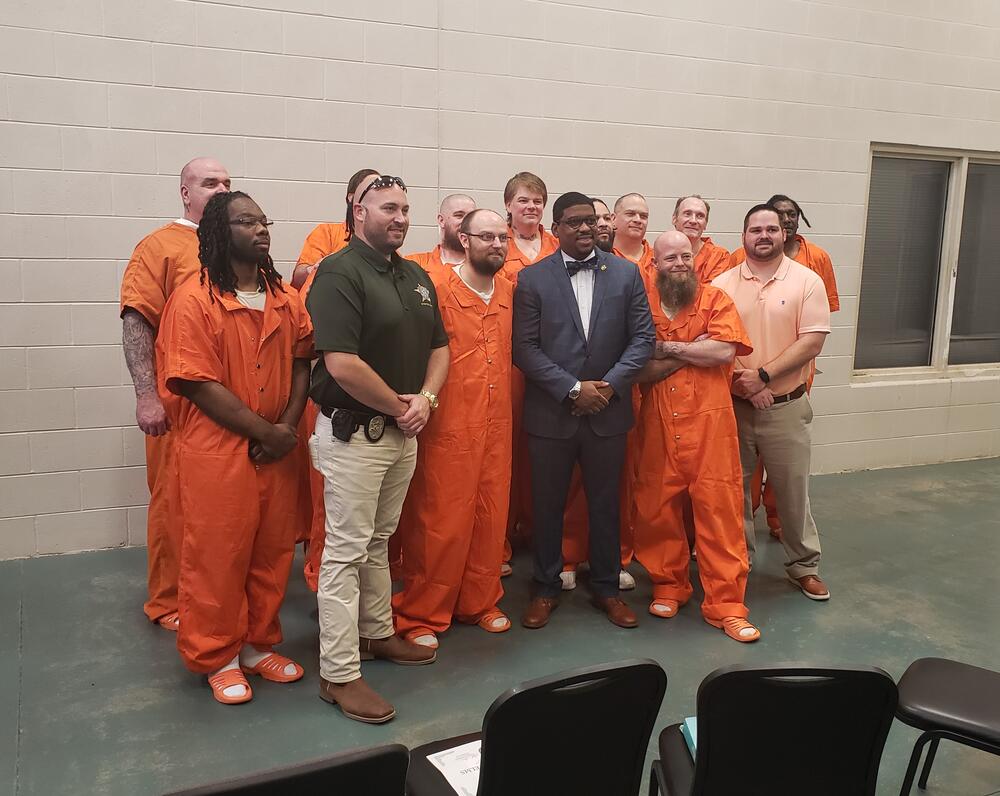 FOR IMMEDIATE RELEASE
MEDIA CONTACT
Major Gary McClain
Office: 870.541.5351 / Cell: 870.329.5638
Email: gary.mcclain@jeffcoso.org
---
TWELVE DETAINEES GRADUATE FROM EXODUS.LIFE ADDICTION RECOVERY PROGRAM: Jefferson County, Arkansas - July 8, 2021 - In February the Jefferson County Sheriff's Office began a collaboration with Exodus.Life as a partnering component of the Comprehensive Opioid Abuse Site-Based Program (COAP). This COAP was made possible through two categories of federal funding that was applied for and awarded to the Jefferson County Sheriff's Office. The COAP aims to reduce opioid abuse and the number of overdose fatalities, reduce recidivism, as well as to mitigate the impacts on crime victims by supporting comprehensive, collaborative initiatives. The grant provides financial support to implement strategies that support treatment and recovery, provide prevention and education programs, increase the use of diversion, and reduce the incidence of overdose death.
On May 10, 2021, the first class of the eight (8) week prevention and education component began at the W.C. "Dub" Brassell Adult Detention Center. Daily classes for detainees were conducted by peer-recovery specialists from Exodus.Life which focused on reuniting and reeducating the detainees to successfully reconnect with their families and communities. The training they received is geared to help to address the barriers that would prohibit a graduate's successful reentry into society such as, but not limited to, employment, transportation, education, and legal obstacles.
On today, July 8, 2021, Sheriff Lafayette Woods, Jr. and many of his staff joined with Exodus.Life to celebrate the successes of the first twelve (12) graduates of the program. A graduation ceremony was held at the W.C. "Dub" Brassell Detention Center where Exodus.Life Executive Director Myra Woolfolk explained in the opening that this celebration is "for the students by the students".
One by one, the graduates participated in the ceremony by reciting a poem, scripture, or reflective statement of how the program has impacted them and led to positive change in their path moving forward. Today's notable graduates are: Justin Bailey, Marlo Carter, Jordan Cutler, Joseph Foster, Alvis Gibbs, Christopher Helms, Jason Hindes, Ricky Lenard, Jalyn Scott, Gary Don Smith, Josh VanEsch, and Jeremy Welshhons.
In addition to the prevention and education category the COAP provides for an additional investigator to the Tri-County Drug Task Force as well as a field peer recovery specialist to respond in assistance to incarcerated and non-incarcerated overdose survivors with resources and services that will enhance quality of life and well-being.
"I'm overcome with joy, said Sheriff Lafayette Woods, Jr. "I've seen a lot in my career as a previous narcotics investigator assigned to the Tri-County Drug Task Force and the Drug Enforcement Agency Task Force and from that it's moments like this that mean the most.
Sheriff Woods expressed in a commencement address to the graduates that he is excited to be able to share in this moment of achievement and to be able to join together to celebrate their inspiring commitment. Sheriff Woods told the group, "The path that has led you all here has not been easy and I'm sure that there were moments of doubt and difficulty when the way forward was anything but clear. But the fact that you are here this afternoon is a testament to the strength that defines each individual who entered this program. You have dedicated yourself to change, summoning the courage and resolve to start the road to recovery and sobriety".
The next class is scheduled to begin in about two (2) weeks.