SHERIFF PROMOTES CHIEF DEPUTY - JAIL ADMINISTRATOR
02/22/2023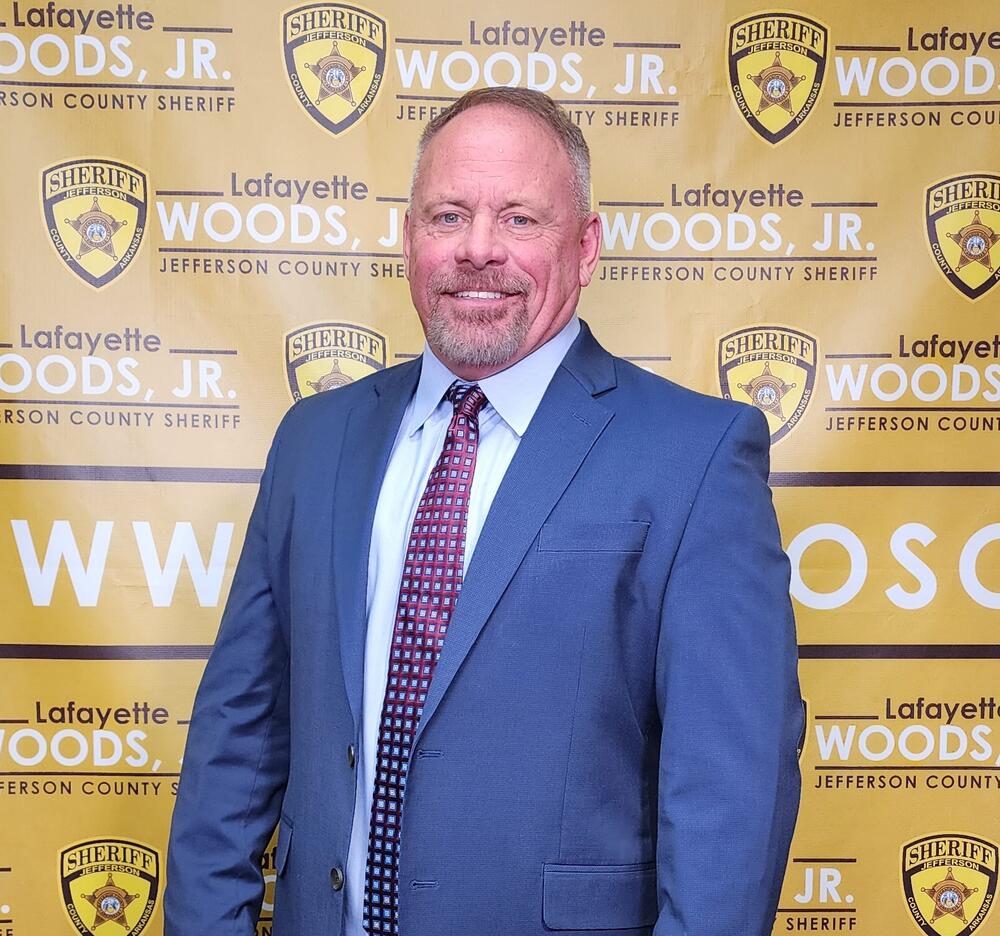 FOR IMMEDIATE RELEASE
MEDIA CONTACT
Major Gary McClain
870.541.5351 Office / 870.329.5638 Cell
Email: gary.mcclain@jeffcoso.org
---
SHERIFF PROMOTES CHIEF DEPUTY - JAIL ADMINISTRATOR: Jefferson County, Arkansas - February 22, 2023 - Jefferson County Sheriff Lafayette Woods, Jr. has announced the promotion of Internal Affairs Sergeant Jimmy "Bo" Hudson to Chief Deputy - Jail Administrator.
"Chief Deputy Hudson's commitment to his performance and dedication to duty are trademarks for the long-term success of the Jefferson County Sheriff's Office", said Sheriff Woods, Jr. "We certainly value all of our employees and are especially pleased to watch them meet the challenges presented and to grow into greater responsibilities and roles." Sheriff Woods said, "We look forward to Chief Deputy Hudson's ability to achieve the highest level of success in his new role".
Chief Deputy Hudson is a 28-year law enforcement veteran, completing law enforcement basic training at the Arkansas Law Enforcement Training Academy (ALETA) in East Camden. He is a Law Enforcement Professional Instructor and has worked in many divisions throughout his career including Patrol, Criminal Investigations, Internal Affairs, Narcotics, and the Jefferson County Sheriff's Office Special Response Team. From April 2018 through June 2022 Hudson was assigned to the United States Drug Enforcement Administration (DEA), Little Rock District Office Tactical Diversion Unit, where he and fellow Task Force Officers were charged with investigating, disrupting, and dismantling people and/or organizations suspected of violating the Controlled Substances Act or other local, state, and federal statutes pertaining to illicit drugs. Hudson is a 1994 graduate of Harding University in Searcy, Arkansas, where he received his Bachelor of Arts Degree in Psychology with a minor in English. Hudson also earned an Associate Degree from Arkansas State University in Applied Science, and an Associate Degree in Security Administration from the Community College of the Air Force. Hudson is a military veteran and served in Military Police Units in the Air Force, Army, and Navy, and was a certified Range Master and a Close Quarters Combat Instructor.
"Chief Deputy Hudson embodies all of the characteristics required of a leader and has a proven record as someone with exemplary integrity", said Sheriff Woods. "I'm very excited that we have his experience as part of our leadership team".