DEPUTIES FOIL ATTEMPT TO THROW CONTRABAND OVER DETENTION CENTER FENCE
03/25/2023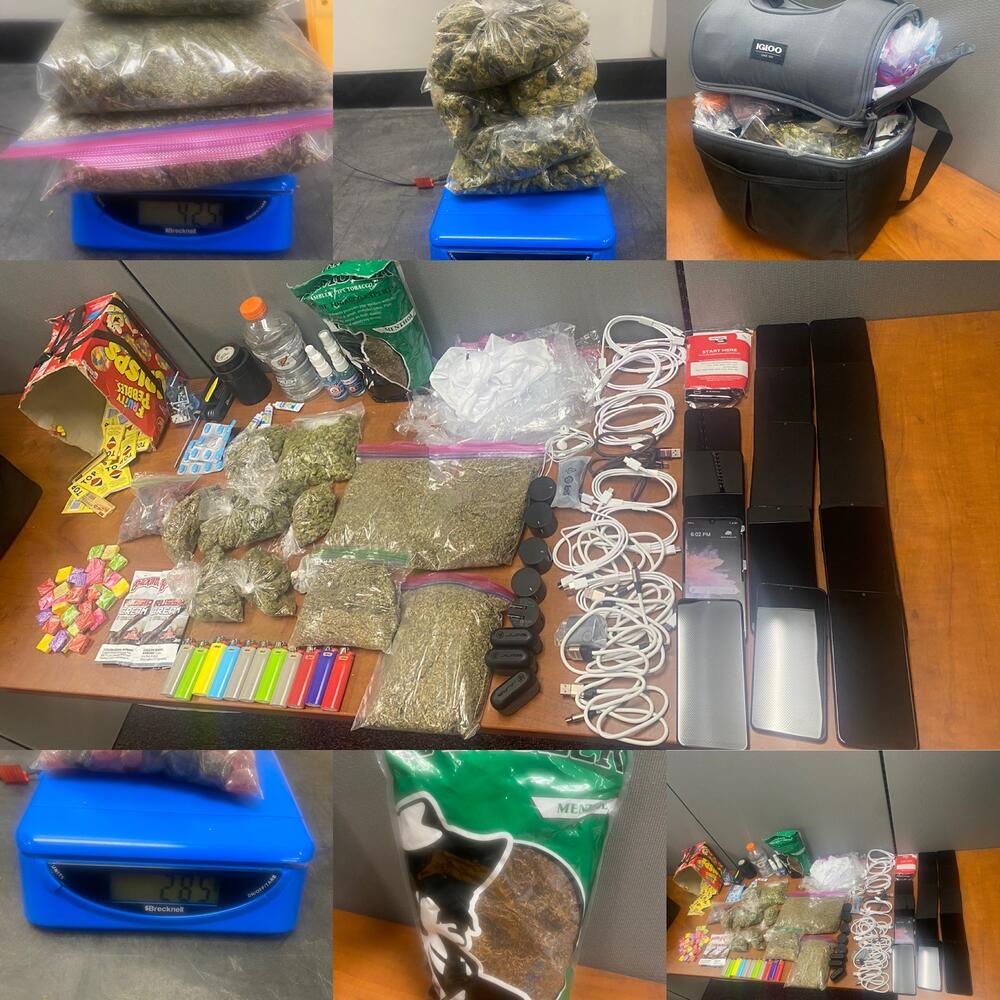 FOR IMMEDIATE RELEASE
MEDIA CONTACT
Major Gary McClain
Office: 870.541.5351 / 870.329.5638
Email: gary.mcclain@jeffcoso.org
DEPUTIES FOIL ATTEMPT TO THROW CONTRABAND OVER DETENTION CENTER FENCE: Jefferson County, Arkansas - March 24, 2023 - One man accused of trying to throw drugs, cellphone, and tools onto the grounds of the W.C. "Dub" Brassell Adult Detention Center (DBDC) has been captured, while his female accomplice remains at-large.
36-year-old Oliver Moore of Pine Bluff now sits in DBDC charged with Possession of a Controlled Substance with the Intent to Deliver, a Class Y Felony punishable by a minimum sentence of ten years, but no more than 40 years or life in the Arkansas Department of Corrections and Furnishing Prohibited Articles in, a Class B Felony punishable by a minimum sentence of five years, but not more than 20 years in the Arkansas Department of Corrections.
Deputies were alerted to suspicious activity outside DBDC. Upon arrival and investigation, it was discovered that Oliver, driven by 38-year-old Catrlia Lashun Sanders-Heard arrived nearby DBDC in a black GMC Yukon. Moore was captured on video walking towards the exterior perimeter fence of DBDC, where he can be seen tossing a large nylon Igloo cooler bag over the fence. However, Moore's attempt was quickly foiled after the bag was snagged on the razor wire along the top of the fence. Moore and Heard fled the area immediately thereafter in the Yukon. Upon examining the contents of the cooler, it was discovered that it contained a large amount of contraband to include approx. 9.6ozs of marijuana, MDMA more commonly referred to as ecstasy, approx. 15.1ozs of synthetic marijuana more commonly referred to as K2, approx. 285gms of suspected marijuana gummies, 11 cigarette lighters, a screwdriver, multi tool, cigar wraps, TOP rolling paper, super glue, electrical tape and 14 mobile smart phones with power charging cords.
Moore was apprehended a short time later and transported to DBDC, where he will remain pending a first appearance or probable cause hearing for the above-mentioned charges. Meanwhile, Heard is still at-large and JCSO is asking for the assistance of the public in locating her.
"The interception of this contraband is a testament to the hard work and dedication of the Jefferson County Sheriff's Office and its detention staff. He also praised the vigilance of the deputies, detention staff, and dispatchers for their quick response and action in preventing the contraband from entering the detention center," said Jefferson County Sheriff Lafayette Woods, Jr. "Contraband of any kind is a serious threat to the safety and security of our detention center as well as detainees. We will continue to work diligently to ensure that our detention centers remain free of illegal contraband."
The Jefferson County Sheriff's Office continue to investigate this incident, and further details will be released as they become available. If you know the whereabouts of Catrlia Lashun Sanders-Heard, we urge you to contact our non-emergency number (870) 541-5300 24/7 or directly to the Criminal Investigation Division of the Jefferson County Sheriff's Office at (870) 541-5496 Mon-Fri 8:30am - 5pm. Information and tips can also be shared anonymously via email at tips@jeffcoso.org, Facebook https://www.facebook.com/jcso1830, and Twitter @JeffCtySO. Caller's anonymity is guaranteed.


| | |
| --- | --- |
| | |
| Oliver Moore | Catrlia Lashun Sanders-Heard |