UPDATE - SEARCH FOR MARANDA NEAL CONTINUES
05/04/2023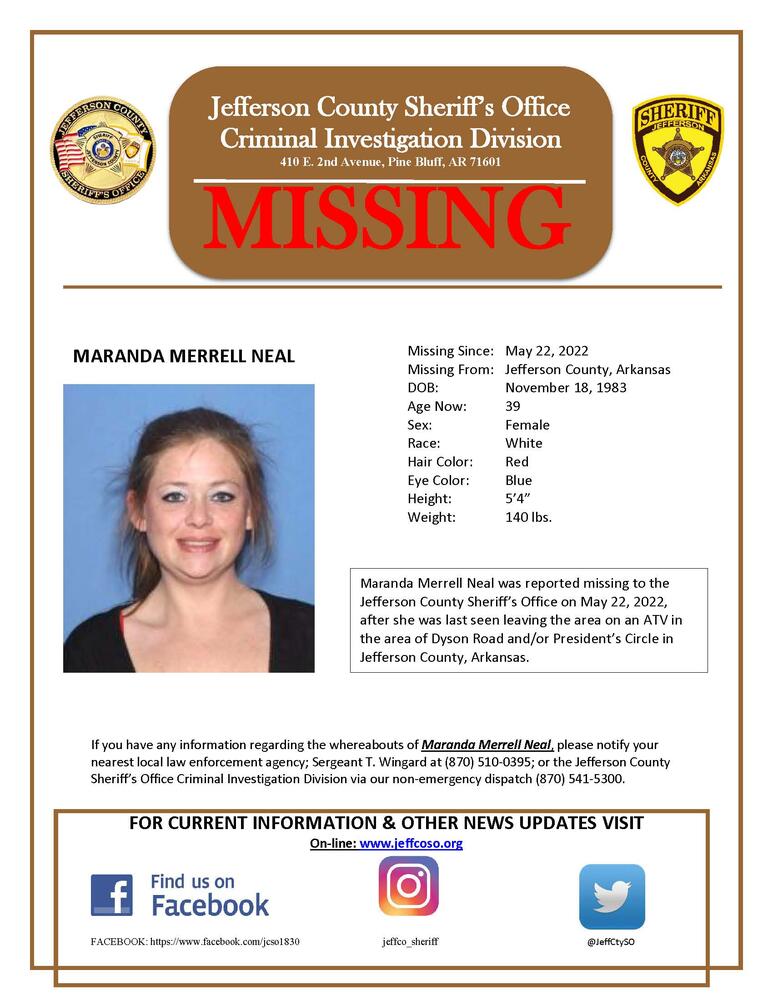 FOR IMMEDIATE RELEASE
MEDIA CONTACT
Major Gary McClain
Office: 870.541.5351 / 870.329.5638
Email: gary.mcclain@jeffcoso.org
---
UPDATE - SEARCH FOR MARANDA NEAL CONTINUES: Jefferson County, Arkansas - May 4, 2023 - Maranda Merrell Neal was reported missing to the Jefferson County Sheriff's Office on May 22, 2022, after last being seen on an ATV in the area of Dyson Road and/or President's Circle. Extensive searches of hundreds of acres of the area at the time did not reveal any leads to her whereabouts.
In November 2022, a hunter who was out in a wooded area checking some property in relationship to deer season, discovered an ATV in a wooded area off of Robinson Road. The hunter reported the finding to the Jefferson County Sheriff's Office which confirmed that the ATV matches the description of the one that Ms. Neal was last seen riding at the time of her disappearance. An extensive search of the vicinity was performed for any evidence or indication of the circumstances related Ms. Neal's disappearance.
The Quapaw Nation Office of Emergency Management in conjunction with the Jefferson County Sheriffs' Office, the Morgan Nick Foundation, and other first responders will be conducting multiple searches in the Watson Chapel area on Friday May 5, 2023, through Sunday, May 7, 2023. Multiple K9 teams specially trained in Search and Rescue along with law enforcement officers will be utilized during this operation.
If you encounter any of these search teams this weekend please cooperate with their instructions. We ask that the public refrain from the areas that are being searched so not to impede the K9 team's efforts. More information will be released once the operation has concluded.
If you have any information regarding the whereabouts of Maranda Merrell Neal, please notify your nearest local law enforcement agency; Sergeant T. Wingard at (870) 510-0395; or the Jefferson County Sheriff's Office Criminal Investigation Division via our non-emergency dispatch (870) 541-5300.