JCSO SEEKS HELP LOCATING RUNAWAY JUVENILE
07/11/2023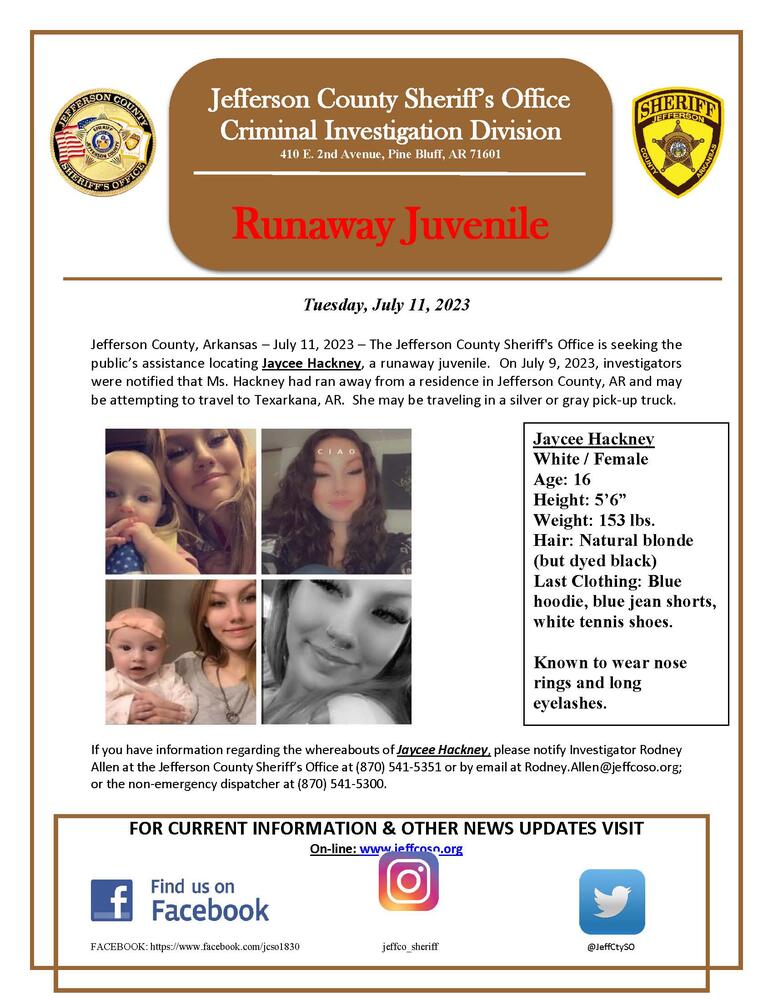 FOR IMMEDIATE RELEASE
MEDIA CONTACT
Major Gary McClain
870.541.5351 Office / 870.329.5638 Cell
Email: gary.mcclain@jeffcoso.org
---
JCSO SEEKS HELP LOCATING RUNAWAY JUVENILE: Jefferson County, Arkansas - July 11, 2023 - The Jefferson County Sheriff's Office is seeking the public's assistance locating Jaycee Hackney, a runaway juvenile. On July 9, 2023, investigators were notified that Ms. Hackney had ran away from a residence in Jefferson County, AR and may be attempting to travel to Texarkana, AR. She may be traveling in a silver or gray pick-up truck.
Jaycee Hackney is described as a 16-year-old, white, female, 5'6" tall, and 153 lbs. Her hair is naturally blonde, but has been dyed black. She was last seen to be wearing a blue hoodie, blue jean shorts, and white tennis shoes. She is known to wear nose rings and long eyelashes.
If you have information on the whereabouts of Jaycee Hackney, please notify Investigator Rodney Allen at the Jefferson County Sheriff's Office at (870) 541-5351 or by email at Rodney.Allen@jeffcoso.org; or the non-emergency dispatcher at (870) 541-5300.