JEFFERSON COUNTY SHERIFF LAFAYETTE WOODS, JR GRADUATES FROM FBI NATIONAL COMMAND AT QUANTICO
07/17/2023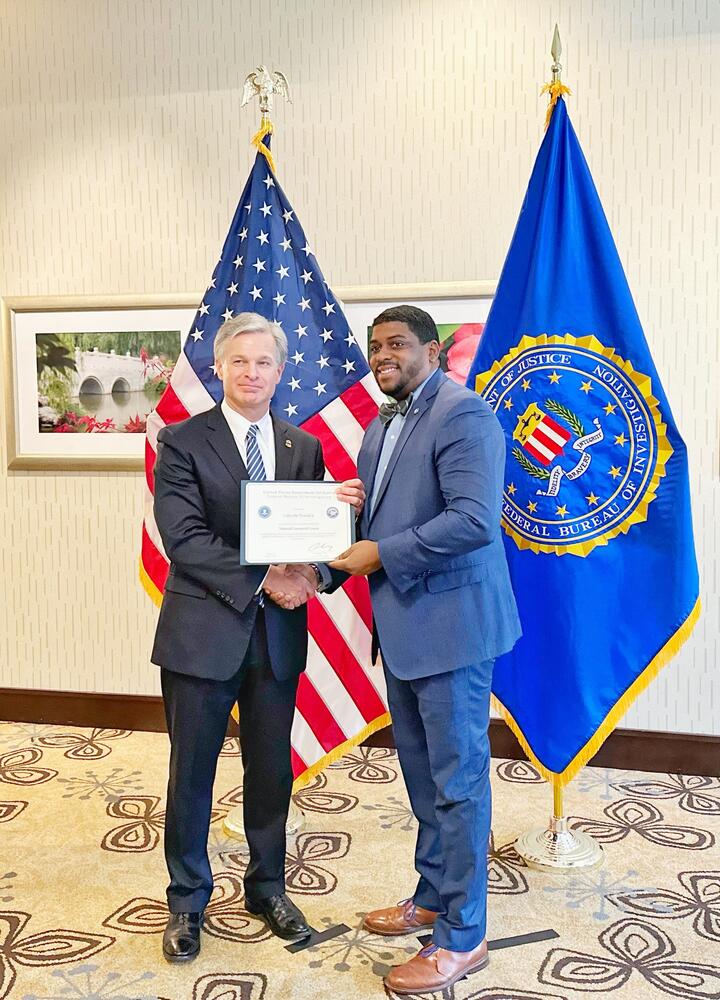 FBI Director Christopher Wray with Jefferson County Sheriff Lafayette Woods, Jr.
at graduation from the FBI National Command Course in Virginia on Friday
FOR IMMEDIATE RELEASE
MEDIA CONTACT
Major Gary McClain
870.541.5351 Office / 870.329.5638 Cell
Email: gary.mcclain@jeffcoso.org
---
JEFFERSON COUNTY SHERIFF LAFAYETTE WOODS, JR GRADUATES FROM FBI NATIONAL COMMAND AT QUANTICO: Jefferson County, Arkansas - July 17, 2023 - Jefferson County Sheriff Lafayette Woods, Jr, received certificate of completion from FBI Director Christopher Wray on Friday as a graduate of Session 5 of the Federal Bureau of Investigation (FBI) National Command Course (NCC) at Quantico, Virginia. Sheriff Woods accomplished this prestigious achievement on July 14th, with Christopher Wray, Director of the FBI, present to award participants their certificates of completion.
Sheriff Lafayette Woods, Jr. was nominated for this exceptional opportunity by FBI Little Rock Special Agent in Charge (SAC) James A. Dawson. Among the 50 chief executives of domestic law enforcement agencies who participated, Sheriff Woods was one of only eight sheriffs from across the United States selected to attend this week-long training. The NCC, first developed in 2020, was specifically designed to address the need for strategic leadership training programs for policing executives within the FBI.
NCC, the newest addition to the FBI's executive development repertoire, focuses on agency heads with fewer than 50 sworn law enforcement officers who have not previously attended the FBI National Academy. This comprehensive program provides numerous benefits, including fostering improved relationships between law enforcement agencies and the communities they serve, enhancing liaison between departments for more effective policing, and ultimately advancing public safety nationwide. The training covers a wide range of critical topics, such as strategic leadership, image management, officer wellness, and the prevention of targeted violence.
Reflecting on his experience, Sheriff Woods emphasizes the immense value of continued professional development and the significance of networking with other law enforcement executives from across the nation. He states, "Participating in the FBI National Command Course has been an incredible opportunity for me to enhance my leadership skills and gain valuable insights from esteemed colleagues in law enforcement. The knowledge and expertise shared during this training will undoubtedly strengthen our commitment to public safety in Jefferson County, Arkansas."
Sheriff Woods recognizes that implementing the knowledge acquired during the NCC can greatly contribute to improving public safety within the county. He is determined to leverage the training to enhance community relations, optimize departmental collaborations, and ensure that law enforcement efforts remain effective, efficient, and responsive to the needs of Jefferson County residents.
Sheriff Woods extends his deepest gratitude to SAC Dawson for his nomination and continuous support. SAC Dawson's confidence in Sheriff Woods' leadership abilities has played an integral role in this extraordinary opportunity, further reinforcing the collaborative efforts between the FBI and local law enforcement agencies.