DISPELLING FALSE THREATS OF GANG ACTIVITY
09/12/2023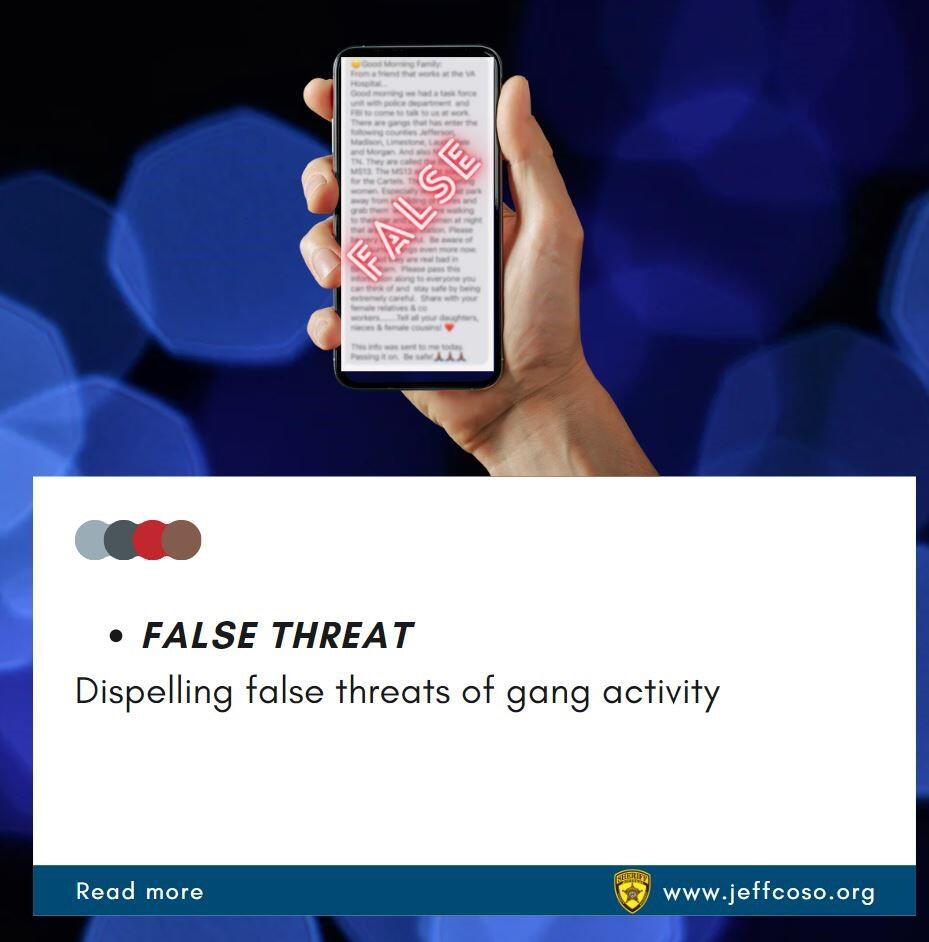 FOR IMMEDIATE RELEASE
MEDIA CONTACT
Major Gary McClain
Office: 870.541.5351 / Cell: 870.329.5638
Email: gary.mcclain@jeffcoso.org
---
DISPELLING FALSE THREATS OF GANG ACTIVITY: Jefferson County, Arkansas - September 12, 2023 - We, at the Jefferson County Sheriff's Office, are committed to ensuring the safety and well-being of our community members. Recently, there have been alarming messages circulating on social media and text messages, suggesting the presence of well-known gang members from the Blood and MS13 gangs in Jefferson County, Arkansas. These messages claim that these individuals are targeting women who frequent stores and buildings in our area, with the intention of abduction.
We want to emphasize that there is no credible information or evidence to support these claims. The author of these messages failed to mention a crucial fact: there are 26 counties or parishes in the United States named Jefferson, paying homage to Thomas Jefferson, the principal author of the Declaration of Independence. After looking into the posts and messages it is believed that the areas mentioned in these messages are actually linked to areas in Alabama, not our beloved Jefferson County, Arkansas. The posts actually reference the counties of Madison, Limestone, Lauderdale, and Morgan as well as proximity to Nashville, TN and Birmingham, AL. All of those areas are geographically connected in Alabama.
While this is not a credible threat to our community, we always encourage and promote situational awareness among our residents. Being aware of your surroundings and taking precautions is essential for personal safety. If you ever feel unsafe or witness suspicious activity, please do not hesitate to contact the Jefferson County Sheriff's Office at (870) 541-5351 or call 9-1-1 so that we can respond promptly and appropriately.
We understand that the dissemination of false information can cause undue fear and panic among our residents. Rest assured, our law enforcement agencies remain vigilant and dedicated to protecting Jefferson County, Arkansas. We work very closely with our federal, local, and community partners to ensure your safety.
In conclusion, we want to dispel these rumors and again emphasize that there is no credible threat posed by Blood and MS13 gang members in Jefferson County, Arkansas. We are a close-knit community that looks out for one another, and together, we will continue to make Jefferson County a safe and thriving place to live.
Thank you for your understanding and cooperation.