UAPB STUDENT JOINS JEFFERSON COUNTY SHERIFF'S OFFICE AS A CRIMINAL INVESTIGATION DIVISION INTERN
09/20/2023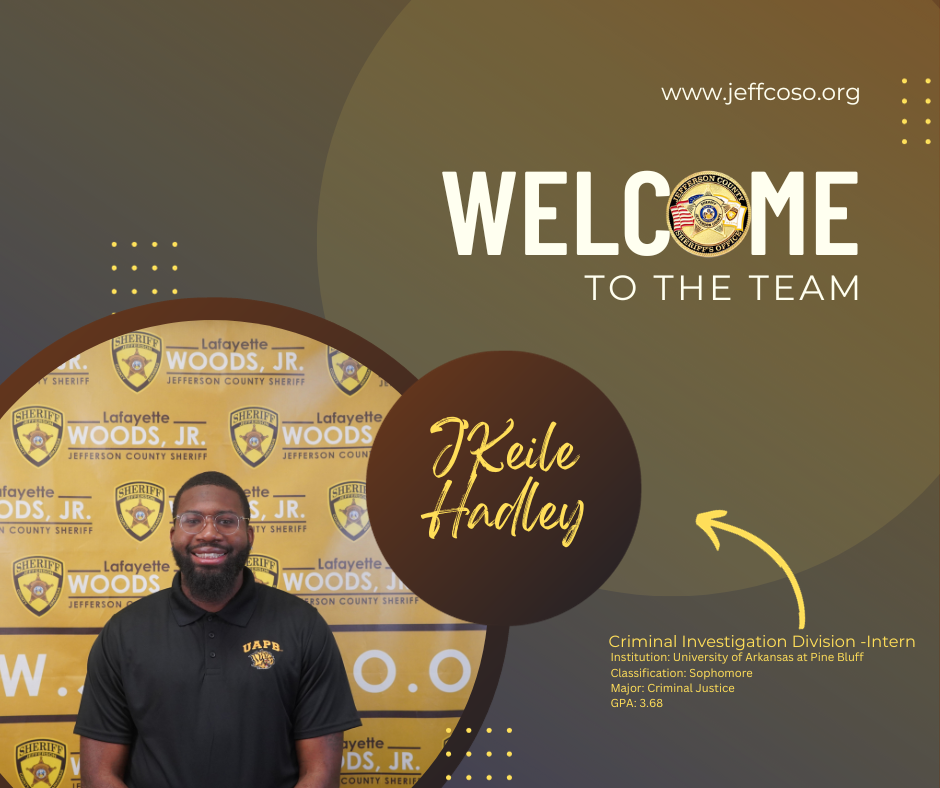 FOR IMMEDIATE RELEASE
MEDIA CONTACT
Major Gary McClain
Office: 870.541.5351 / Cell: 870.329.5638
Email: gary.mcclain@jeffcoso.org
---
UAPB STUDENT JOINS JEFFERSON COUNTY SHERIFF'S OFFICE AS A CRIMINAL INVESTIGATION DIVISION INTERN: Jefferson County, Arkansas - September 20, 2023 - The Jefferson County Sheriff's Office (JCSO) is pleased to announce the addition of Mr. J'Keile Hadley, a dedicated sophomore majoring in Criminal Justice at the University of Arkansas at Pine Bluff (UAPB), to our team. Mr. Hadley has joined our ranks as a student-intern, and he will be assigned to the agency's esteemed Criminal Investigation Division (CID).
As part of our commitment to fostering the next generation of law enforcement professionals, Mr. Hadley will embark on a hands-on internship experience tailored to provide educationally related work assignments for students. During his time with us, he will gain invaluable insights and practical knowledge in various facets of criminal justice, including criminal investigations, crime scene processing, evidence collection, and courtroom testimony.
Mr. Hadley's placement within the Jefferson County Sheriff's Office is made possible through our enduring partnership with the Office of Career Services, a vital component of UAPB Student Affairs. This collaboration has allowed us to consistently offer meaningful career placement opportunities to aspiring students that might find themselves eager to pursue a career in law enforcement.
Sheriff Lafayette Woods, Jr. expressed his enthusiasm for Mr. Hadley's arrival, stating, "We are thrilled to welcome Mr. J'Keile Hadley to our team and look forward to providing him with a comprehensive and immersive learning experience within our Criminal Investigation Division. It is our hope that this internship will not only contribute to his academic growth but also prepare him for a successful and impactful career in the field of criminal justice."
The Jefferson County Sheriff's Office takes pride in supporting the educational journey of students from UAPB and other esteemed institutions. "We are committed to nurturing the talents and ambitions of emerging professionals, and we believe that Mr. Hadley's time with us will be mutually beneficial," Sheriff Woods said.