Jefferson County Sheriff's Office Featured in 2012 Issue of Arkansas Sheriff's Association Magazine
04/30/2012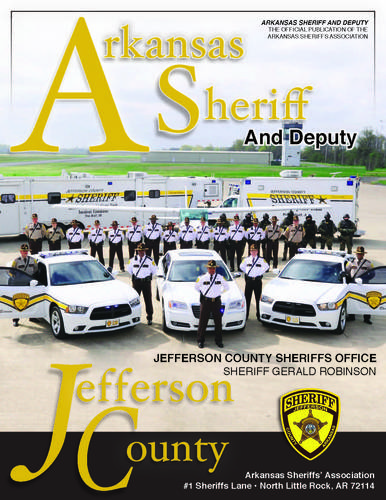 FOR IMMEDIATE RELEASE
MEDIA CONTACT
Major Lafayette Woods, Jr.
Operation Commander/Public Information Officer
870.541.5351
Email: lafayette.woods@jeffcoso.org
JEFFERSON COUNTY SHERIFF'S OFFICE FEATURED ON COVER PAGE OF ARKANSAS SHERIFF'S ASSOCIATION 2012 MAGAZINE ISSUE: Jefferson County, Arkansas– On Monay, April 30, 2012, the Arkansas Sheriff's Association (ASA) released their 2012 magazine edition.
In an effort to prevent crime and drug abuse in counties statewide, the Arkansas Sheriffs' Association offers businesses and individuals the opportunity to show their support of the sheriffs of Arkansas through advertising in the annual publication of the Arkansas Sheriff and Deputy magazine. The ASA staff works directly with the county sheriff's department by having your local sheriff or one of his deputies accompany them to each local business, rather than making telephone solicitations. The Arkansas Sheriff and Deputy magazine is distributed to all county sheriffs' departments, schools, churches, civic organizations and the businesses and individuals who make this publication possible. Each ASA representative works exclusively for the 75 sheriffs of Arkansas through the ASA Board of Directors, not for an advertising firm or publishing company.

The Arkansas Sheriff and Deputy magazine is supported through the sale of advertising. All monies received are governed by sheriffs who make up our Board of Directors. As an affiliate member, your advertisement will appear in the publication to be distributed throughout your county. The sole purpose of this magazine is to deter crime and substance abuse in your community by supplying educational information concerning some of the most prevalent social issues affecting our society today. We would like to invite you to join our endeavor to improve the quality of life for Arkansas citizens, young and old alike.
If you would like to advertise with the ASA and support your local sheriff's office, please contact Mandy Penney at 501-758-0020 or 501-758-0020.