Sheriff's Office Stress Boat Safety for Memorial Day Weekend
05/24/2012

FOR IMMEDIATE RELEASE
MEDIA CONTACT
Major Lafayette Woods, Jr.
Operation Commander/Public Information Officer
870.541.5351
Email: lafayette.woods@jeffcoso.org
JEFFERSON COUNTY SHERIFF'S OFFICE DEPUTIES STRESS BOAT SAFETY AS THEY READY VESSELS FOR MARINE PATROL FOR MEMORIAL DAY: Jefferson County, Arkansas – May 24, 2012 – Jefferson County Sheriff's Office Reserve Deputies conduct safety checks on two of the departments vessels, PB No. 2 and PB No. 7 both utilized for marine rescue and patrol. These safety checks are needed to ensure prior functioning of the vessels as deputies ready themselves for Memorial Day boaters along the Arkansas River.
While our agency wants to ensure that everyone has a good Memorial Day, we also want boaters keep in mind the fundamentals of boat safety. The Memorial Holiday Day weekend is fast approaching and in past years waterways have proven that they can become quite congested with boaters. We have seen recreational watercrafts from sea-doo's and jet skis to larger watercrafts such as pontoon and ski boats.
Located on the navigable Arkansas River, with a slackwater harbor, Pine Bluff is accessible by water via the Port of Pine Bluff, which the Jefferson County Sheriff's Office is responsible for patrolling over 3.2 square miles of water. When cruising across the vast waterways of the Arkansas River, it's easy for boaters to forget the worries of the world. However, we want boaters to remember not to forget that when it comes to boat safety that it is key. Our deputy's primary focus when patrolling the waterways is to ensure the safety of all. 2011 boating accident year-end report by the Arkansas Game & Fish Commission revealed that there were 73 reported boating accidents that resulted in 15 fatalities, 30 injuries and an estimated $347,800.00 in property damage. Those numbers reported through December 31, 2011 showed a slight increase from the total number of accidents reported in 2010 and the overall percentage of fatalities also rose slightly.
Although not all accidents can be avoided, there are many that can be prevented by reverting back to the fundamentals of boaters safety and just using good old common sense. We would like to remind boaters to be cognizance of their surroundings and watch for channel markers, speed zones and be sure to have all necessary safety equipment on board. Lifejackets are an essential piece of safety equipment and should be worn while navigating through any part of water. If boaters feel that they have consumed too much alcohol, it's wise to allow someone else to take the helm.
Pictured Above: Patrol Boat (PB No. 7) & Lieutenant Guy Oaks (left)
and Major Lafayette Woods, Jr. (right)
Action: Performing safety checks on Sheriff's Vessel, PB No. 7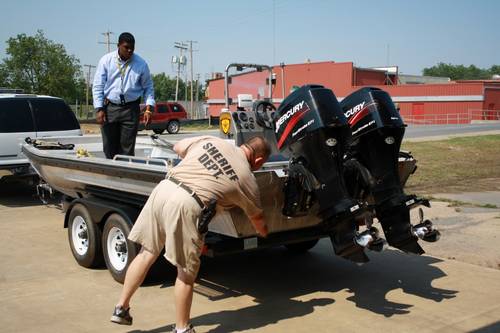 Pictured Above: Patrol Boat (PB No. 7)
Major Lafayette Woods, Jr. (left) and Lieutenant Guy Oaks (right)
Action: Performing safety checks on Sheriff's Vessel, PB No. 7