SHERIFF'S OFFICE LAUNCHES NEW WEBSITE FEATURE TODAY
09/12/2012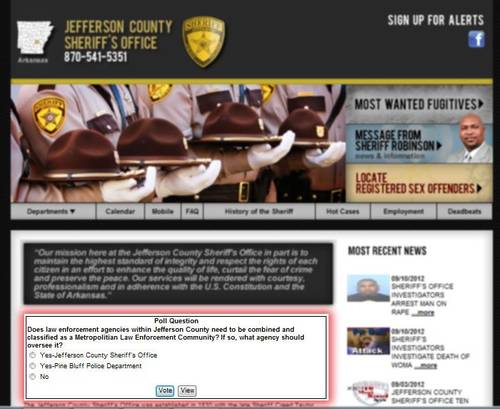 Jefferson County Sheriff's Office Website Homepage Featuring Highlighted Poll Question Section for viewers to cast vote!!!
FOR IMMEDIATE RELEASE
MEDIA CONTACT
Major Lafayette Woods, Jr.
Operation Commander/Public Information Officer
870.541.5351-OFFICE/870.329.5652-CELL
Email: lafayette.woods@jeffcoso.org
JEFFERSON COUNTY SHERIFF'S OFFICE LAUNCH NEW "POLL MODULE" FEATURE ON AGENCIES WEBSITE: Jefferson County, Arkansas – September 12, 2012 – The Jefferson County Sheriff's Office launched our new website on February 21, 2012, where citizens can find the latest information regarding the operations of the Sheriff's Office, sex offender information, crime statistics and more. The purpose of the new website was to serve as an information resource for the public and assist with community policing efforts.
Since the launch of our website, we have added a host of innovative add-ons and features such as our new "Poll Module". The "Poll Module" will appear in the center of the homepage of our website, www.jeffcoso.org The purpose of the "Poll Module" is to gauge public opinion about various topics or issues pertaining to public safety, as for the purpose of analysis.
A new poll will be posted periodically for the public to cast their vote. Voting result percentages will be viewable to the public and in some instances answers provided following the public's vote being casted. To curtail or thereby eliminate issues with voters casting multiple votes in an attempt to skew the results, we have worked closely with developers of the new added feature to limit or restrict votes for voters by only one per IP Address. This is another clear example by which the Sheriff's Office is steadily finding new ways to display and strengthen its ability to be transparent.
With the added feature, we also hope to continue to improve the efficiency of the Sheriff's Office. In doing so, we hope to encourage the public to engage in a more active role in community efforts because of the information provided through our website.
For more information about the Website please contact the Jefferson County Sheriff's Office at 870-541-5351 or visit www.jeffcoso.org