FACEBOOK POST BY MAN PROMPTS SHERIFF'S OFFICE TO SEEK FORMAL FILING OF FELONY CHARGES FOR 1ST DEGREE TERRORISTIC THREATENING AGAINST DEPUTY
10/24/2012
FOR IMMEDIATE RELEASE
MEDIA CONTACT
Major Lafayette Woods, Jr.
Operation Commander/Public Information Officer
870.541.5351
Email: lafayette.woods@jeffcoso.org
FACEBOOK POST BY MAN PROMPTS SHERIFF'S OFFICE TO SEEK FORMAL FILING OF FELONY CHARGES FOR 1ST DEGREE TERRORISTIC THREATENING AGAINST DEPUTY: Jefferson County, Arkansas – On Wednesday, October 24, 2012, Jefferson County Sheriff's Office authorities compiled an affidavit which was forwarded to Jefferson County Prosecutors seeking the formal filing of felony charges for 1st Degree Terroristic Threatening against a member of their own following a Facebook posting by Montrell Wine.
In his Facebook post, which was posted on October 20, 2012 at 1:04 p.m., Wine posted the following: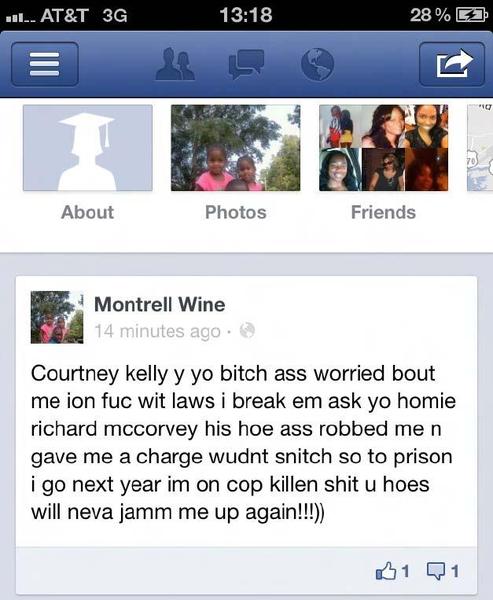 Wines threats were aimed at 2 1/2 year Jefferson County Sheriff's Office Deputy Sheriff K-9 Hander Courtney Kelly. In addition to the language or the suggested content of the post being strictly prohibited by Facebook Administrators, the post in itself is against the law as described pursuant to Arkansas Criminal Code Annotated § 5-13-301. Terroristic threatening. 1st Degree Terroristic Threatening is a Class D Felony and if found guilty Wine could face up to 6 years in the Arkansas Department of Corrections and a fine of no more than $10,000.
Law enforcement authorities across the country commonly surf Facebook and social media sites alike in search of evidence of a different form. Our message is clear and it is that we will not turn a blind eye to threats against deputies whether direct or indirect. We as law enforcement officers take an oath of office at which time we swear to support the Constitution of the United States and the Constitution of the State of Arkansas. In doing so, we have a great sense of responsibility to ensure that our deputies do just that and we have an even greater responsibility as first line supervisors, managers, and administrators to ensure the protection of our own personnel when threatened.
Montrell Wine
DOB: 12-01-1978