SHERIFF'S OFFICE MOBILE APP NOW LIVE AND AVAILABLE FOR DOWNLOAD ON THE ITUNES/APPLE MARKET
04/11/2013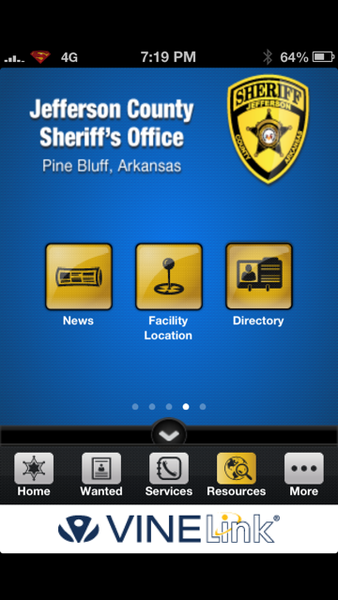 FOR IMMEDIATE RELEASE
MEDIA CONTACT
Major Lafayette Woods, Jr.
Operation Commander/Public Information Officer
870.541.5351
Email: lafayette.woods@jeffcoso.org
JEFFERSON COUNTY SHERIFF'S OFFICE INTRODUCES SMARTPHONE APP: Jefferson County, Arkansas – APRIL 11, 2013 – The Jefferson County Sheriff's Office is proud to announce that the long awaited arrival of the sheriff's office mobile app is now available on the itunes/apple market. Today our office launched it's second smartphone app that allows the office to communicate much more effectively with the community. On May 2, 2012, the Jefferson County Sheriff's Office launched it's first mobile app, which at the time was limited to Android users. Today the mobile app, which is free for download is open to iPhone/iTune users.
Users of the app will have access to real-time detention center information, plus lists of non-custodial parents and most-wanted criminals. The sheriff's office will also be able to send news and alerts directly to users' smartphone – notifying them about anything from bank robberies and missing persons to escapes, weather warnings and more.
The most beneficial and significant feature of this app is that it lets us get important information right to people's fingertips. The app greatly improves our ability to serve the public and that's what we're here for. We're thrilled that we can provide this to the community.
The app is also fully integrated with the county's victim notification service, VINE (Victim Information and Notification Everyday).
We know that more and more people are getting the information they need from their smartphones. We want to ensure we're utilizing the latest communication technology to keep the public informed and this app lets us do just that.
Users can search by MobilePatrol or Appriss to find the app or simply click on the following link:
https://itunes.apple.com/us/app/mobilepatrol/id620067490?mt=8
After downloading, users should select Arkansas in the drop down box and then select AR - Jefferson in order to view the app.