SHERIFF'S OFFICE ANNOUNCES $20,000.00 CONTRIBUTION TO 2013 SUMMER YOUTH EMPLOYMENT PROGRAM
07/09/2013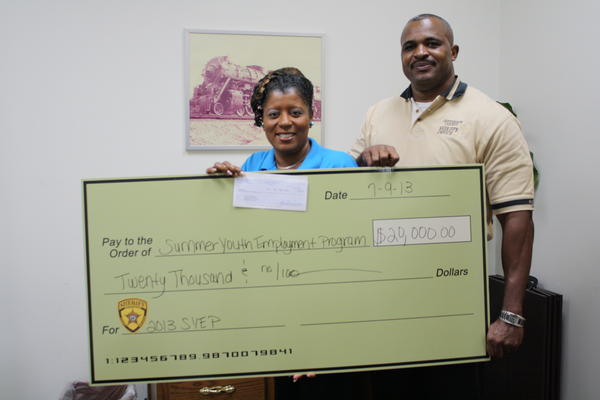 Pictured Above: Summer Youth Employment Program Coordinator, Dee Clay (left)
receives $20,000.00 check presented by Jefferson County Sheriff's Office Chief Deputy
Stanley James (right) on behalf of Sheriff Gerald Robinson.
FOR IMMEDIATE RELEASE
MEDIA CONTACT
Major Lafayette Woods, Jr.
Operation Commander/Public Information Officer
870.541.5351
Email: lafayette.woods@jeffcoso.org
SHERIFF CONTRIBUTES $20,000.00 TO SUMMER YOUTH EMPLOYMENT PROGRAM: Tuesday, July 9, 2013, Jefferson County, Arkansas - The Jefferson County Sheriff is pleased to announce the contribution of $20,000.00 to the Summer Youth Employment Program (SYEP). A locally funded initiative administered by the City of Pine Bluff Human Resources Department; the SYEP provides youth ages 16-21 within the City of Pine Bluff and Jefferson County with enriching and constructive summer work experiences through subsidized placements in the private and government sectors.
The SYEP allows local youth to learn about and experience the Jefferson County Sheriff's Office and its many divisions. The SYEP is an excellent example of a youth oriented outreach that works extremely well. The $20,000.00 contribution by Sheriff Gerald Robinson will assist with funding the SYEP and payment to participants, six of which are assigned through the SYEP to work in the Sheriff's Office through Thursday, July 18th of this year. The SYEP is made possible through the generous contributions from various organizations, which enables the City of Pine Bluff and Jefferson County to facilitate the structured environment for many youths who have shown an interest in law enforcement and other careers.

"While assigned to the Jefferson County Sheriff's Office, SYEP participants had the opportunity to ride-a-long with deputies, tour the Juvenile and Adult Detention Facilities to see first-hand the wide variety of law enforcement functions carried out by our office. The program helps youth interested in careers explore various sectors of government and non-government jobs while helping the community and building leadership skills. The SYEP is a great program that supports local youth and helps develop strong leaders. Sheriff Robinson strongly believes in programs that support youth and gives them opportunities. This is another example of local governments collaborating to achieve one common goal and that goal is to provide our youth of today a chance at a future." Thank you to all the contributors for their ongoing commitment to the youth in our community.