SHERIFF'S OFFICE LAUNCHES WEB ACCESS VISITATION FOR DETENTION CENTER
08/27/2013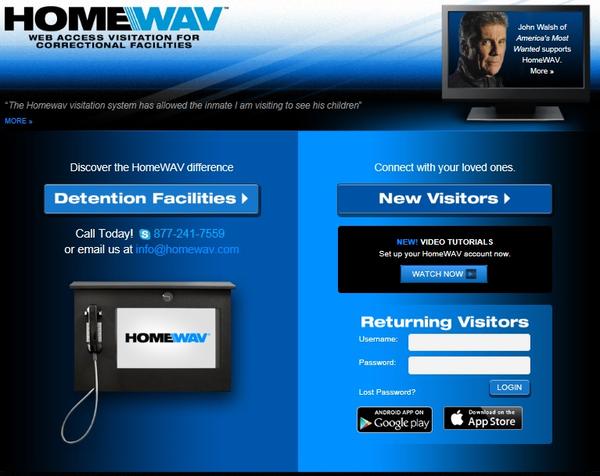 FOR IMMEDIATE RELEASE
MEDIA CONTACT
Major Lafayette Woods, Jr.
Operation Commander/Public Information Officer
870.541.5351-OFFICE/870.329.5652-CELL
Email: lafayette.woods@jeffcoso.org
SHERIFF'S OFFICE LAUNCHES WEB ACCESS VISITATION FOR DETENTION FACILITY: Jefferson County, Arkansas – Tuesday, August 27, 2013 – The Jefferson County Sheriff's Office launched its new web access visitation system by HomeWAV. Having been the first agency and detention facility in the State of Arkansas to launch the visitation system, Jefferson County Sheriff's Office are already seeing a decrease in walk-in visitations within the detention facility. HomeWAV's unique visitation system provides Internet-based video visitation adapted for use in the context of a Detention Facility.
With the new system now in place; family, friends, and even legal counsel can communicate effectively with detainees inside the detention facility more effectively and without even leaving their home.
The website, www.homewav.com allows access to HomeWAV's website, where the general public can create an account and purchase minutes. Minutes are sold for .50 per minute with a minimum 1 minute purchase and a maximum purchase of 20 minutes in order to allow family and friends of other detainees the courtesy of the use of the system if desired. Messages are $1.00 per minute. Payments methods include credit/debit cards, PayPal, and third party ecommerce.
One of the main goals of the new visitation system is to provide both the detainee and his or her family an easy and convenient way to keep in touch with their family, friends, or legal counsel all while minimizing security related incidents or concerns with walk-in visits. The internet visitation reduces the number of visitors entering the detention facility. The interactive web based system allows detainees to initiate visits direct with approved visitors with no operator assistance required.
Use of the system by detainees is restricted by detention facility administrators and only allowed during the hours of 5:00 A.M – 10:00 P.M., Monday-Friday. All calls are recorded and can be monitored for improper use to include lewd and explicit activity at which time system access can be denied.
Provided at no charge and installed in the W.C. "Dub" Brassell Adult Detention Center, a detention facility operated by the Jefferson County Sheriff's Office, the HomeWAV system equipment is owned by the Sheriff's Office from day one. Additionally, the HomeWAV system is maintained free of charge for the term of the contract – 5 years. Cost to users is .50 per minute versus previous telephone cost of $3.80 per minute. The detention facility receives 20% or .10 per minute per call. The systems usage revenue is shared with the detention center monthly beginning the first month.