SHERIFF TO DISPLAY "SUPPORT" FOR BREAST CANCER AWARENESS MONTH
10/11/2013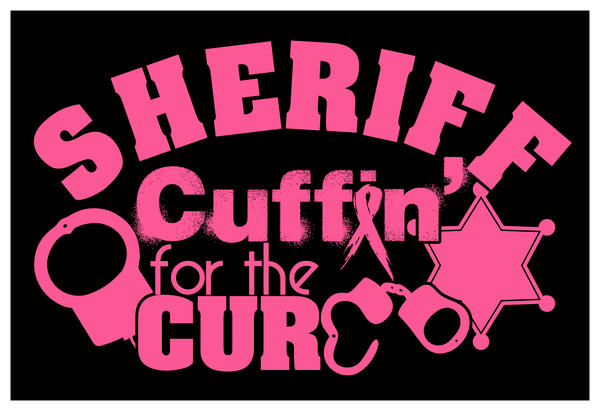 FOR IMMEDIATE RELEASE
MEDIA CONTACT
Major Lafayette Woods, Jr.
Operation Commander/Public Information Officer
870.541.5351-OFFICE/870.329.5652-CELL
Email: lafayette.woods@jeffcoso.org
SHERIFF TO DISPLAY "SUPPORT" FOR BREAST CANCER AWARENESS MONTH: Jefferson County, Arkansas – Friday, October 11, 2013 – When pink comes to mind, you don't think of law enforcement. However, Sheriff Gerald Robinson has authorized his deputies to turn in their department issued traditional handcuffs for a pair of "pink" handcuffs during the month of October. The Sheriff wants to show support for Breast Cancer Awareness Month. "It's something when you realize that typically there exists no more than one degree of separation between someone you know who has or has had breast cancer. So many of us in the Sheriff's Office family have been personally touched by this disease in some way."
Chief Deputy Stanley James and Major Lafayette Woods, Jr. both have family members who have had breast cancer. Major Woods' remarked on his great aunt's very difficult experience. "My great aunt had a precancerous scare, but then the real thing struck. She faced a painful, frightening battle but ultimately prevailed. Major Woods thought it would be appropriate to bring forth the idea of an "Official Sheriff's Office Breast Cancer Awareness" T-shirt. The Sheriff wholeheartedly supported the idea and Major Woods reached to J.L. Designs by Jason Long in order to create the design. The display of support has been dubbed, "Cuffin" for the Cure.
Additionally, Sheriff Gerald Robinson and his female staff will ride along a Breast Cancer Support themed parade float in this year's University of Arkansas at Pine Bluff Homecoming Parade.