National Rifle Association (NRA) Cam & Co News Talk Exclusive Interview with Jefferson County Sheriff's Office Over Recent Public Gun Auction
03/30/2014
FOR IMMEDIATE RELEASE
MEDIA CONTACT
Major Lafayette Woods, Jr.
Operation Commander/Public Information Officer
870.541.5351-OFFICE/870.329.5652-CELL
Email: lafayette.woods@jeffcoso.org
NATIONAL RIFLE ASSOCIATION (NRA) CAM & CO NEWS TALK EXCLUSIVE INTERVIEW WITH JEFFERSON COUNTY SHERIFF'S OFFICE OVER RECENT PUBLIC GUN AUCTION: Jefferson County, Arkansas – Sunday, March 30, 2013 – National Rifle Association (NRA) News "Cam & Co" sponsored by Nosler is a three-hour news-talk show featuring in-depth interviews & views on firearm related issues with NRA leaders, newsmakers, politicos, journalists and congressional leaders. The show brings viewers and listeners news and views on the Second Amendment and other freedom-related issues. NRANews Executive Producer John Popp spoke with Major Lafayette Woods, Jr. about a recent Public Gun Auction held in Pine Bluff, Arkansas, where the sale of 719 guns netted $125,755.00 in profits.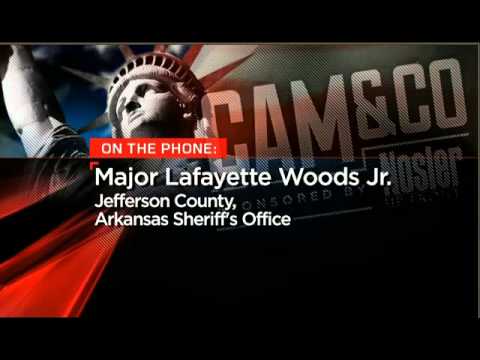 http://www.nranews.com/home/video/major-lafayette-woods-gun-auction-revenue-helps-state-agencies