"IT CAN WAIT" DON'T TEXT WHILE DRIVING CAMPAIGN IMPACTS STUDENTS AT PINE BLUFF HIGH SCHOOL
04/04/2014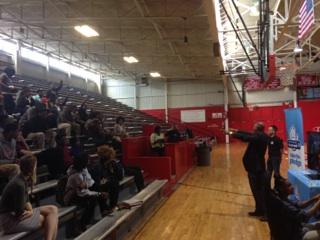 Pictured Above: Sheriff Gerald Robinson speaking to a group of students during "It Can Wait" Don't
Text While Driving Campaign at Pine Bluff High School.
FOR IMMEDIATE RELEASE
MEDIA CONTACT
Major Lafayette Woods, Jr.
Operation Commander/Public Information Officer
870.541.5351-OFFICE/870.329.5652-CELL
Email: lafayette.woods@jeffcoso.org
"It Can Wait" DON'T TEXT WHILE DRIVING CAMPAIGN IMPACTS STUDENTS AT PINE BLUFF HIGH SCHOOL: Jefferson County, Arkansas – Friday, April 4, 2014 – Today, the Jefferson County Sheriff's Office joined forces with AT&T during a scheduled visit to Pine Bluff High School to promote and in support of the "It Can Wait" Don't Text While Driving Campaign.
With an alarming increase in motor vehicles collisions resulting in serious injury or death that involve teens and adult drivers, the Jefferson County Sheriff's Office reached out to AT&T to help educate the public, especially teens on the dangers of texting and driving.
There have already been a number of motor vehicles accidents this year in Jefferson County that have claimed the lives of teens or adults that were a direct result of texting while driving. The number for accidents statewide and nationally involving teens and adults that were a direct result of texting while driving is even greater. "We need to make sure that people know that they are 23 times more likely to be in an accident if they're texting and that nationally there are 100,000 accidents a year where texting is involved."
Jefferson County Sheriff's Office efforts to educate teens on the effects of texting while driving were supported by area business that co-sponsored the initiative by donating funds for t-shirts that were created by Promotional Specialties International, Incorporated and given to PBHS students who participated in today's 3-D driving simulation. The simulation involved a "city" of approximately 8 blocks and realistic texts that appear on the smartphone accompanying the chair. This re-creates the eyes-off-the-road and hand-off-the-wheel experience of texting while driving. Each student experience with operating the simulator took approximately 1-3 minutes behind the wheel. Not surprisingly, no student managed to drive the simulator and text without being involved in video animated motor vehicle collision.
Prior to taking to the steering wheel of the simulator, students watched the documentary "From One Second to the Next", which was a powerful reminder of the consequences of texting while driving. The documentary depicted real life stories of those affected by texting while driving. In addition to students watching the documentary, they were also provided an Apple iPad, which they used to logon to AT&T's www.itcanwait.com and pledge never to text and drive.
A poll question posted on the face of the Jefferson County Sheriff's Office website, www.jeffcoso.org asked citizens if they texted while driving and if so, how often. The poll resulted in the following responses:
50 % Never
20.4 % Rarely
14.8 % In the past
11.1 % Often
3.7% Every chance I get