DEADBEAT DAD ARRESTED FOR OWING TENS OF THOUSANDS IN CHILD SUPPORT
04/11/2014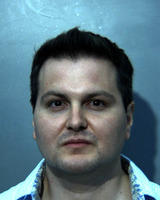 FOR IMMEDIATE RELEASE
MEDIA CONTACT
Major Lafayette Woods, Jr.
Operation Commander/Public Information Officer
870.541.5351-OFFICE/870.329.5652-CELL
Email: lafayette.woods@jeffcoso.org
DEADBEAT DAD ARRESTED FOR OWING TENS OF THOUSANDS IN CHILD SUPPORT: Jefferson County, Arkansas – Friday, April 11, 2014 – A Jefferson County woman is hoping justice will be served after a deadbeat dad identified as Anthony Prado (34) was arrested yesterday for non-payment of child support.
Prado was arrested in Pulaski County on a warrant issued out of Jefferson County for failing to pay approximately $20,000.00 in child support.
Since 2009, the mother of a child fathered by Prado has received little to no financial support from Prado. In 2009, a Jefferson County Circuit Judge issued a warrant for Prado's arrest for non-payment and ordered that a $20,000.00 cash bond be posted upon Prado's arrest. After several unsuccessful attempts by Jefferson County Sheriff's Office Deputies to apprehend Prado, the warrant for Prado was entered into the National Crime Information Center's (NCIC) nationwide database with extradition in all 50 states.
In 2009, Jefferson County Sheriff's Office mailed a certified copy of the warrant for Prado's arrest to Pulaski County Sheriff's Office after deputies learned through a source of information that Prado had moved there to avoid apprehension.
Prado's estranged girlfriend was persistent and worked with deputies in an attempt to provide information concerning Prado's whereabouts. Frustrated at Prado's refusal to pay a weekly $56.00, she utilized Facebook to plea to law enforcement and post photographs of Prado enjoying sushi, private jets, clubs, beaches and pool side lounging. Her persistence and deputy's vigilance paid off.
"No matter what reason a paying parent has for being unable to meet their child support obligations, there are alternatives they have beyond simply neglecting to pay. A paying parent can attempt to reach an out-of-court agreement with the receiving parent. In 2007, when Sheriff Gerald Robinson was elected, one of his many campaign promises was to vigorously go after deadbeat dads and parents that default on child support payments and their parental obligations. Sheriff Robinson has kept his promise through routine enforcement campaigns such as "Operation Mother's Day". Additionally, he requested that an entire page entitled "Deadbeats" on the agencies website at www.jeffcoso.org be dedicated to keeping citizens aware of those who fall short of their parental obligations." –Major Woods
If that is not possible, a paying parent can petition the court to either temporarily or permanently modify a child support agreement. The paying parent should make sure they have the financial, medical or other documentation necessary to show why they are unable to make payments at the current amount. Usually, a change in life circumstances is necessary for a court to modify a child support award.
Because child support arrears will soon add up, it is important that a paying parent who wishes to change the support amount take immediate action. Even if a change in support is ultimately made, the paying parent could still be responsible for the support that accumulated in the meantime. And although a paying parent may be under a lot of stress, they may benefit from talking to a professional on how to best address their child support arrearages.