JEFFERSON COUNTY SHERIFF'S OFFICE ENHANCING PHYSICAL SECURITY WITH NEWLY PURCHASED SKYWATCH MOBILE OBSERVATION TOWER
05/14/2014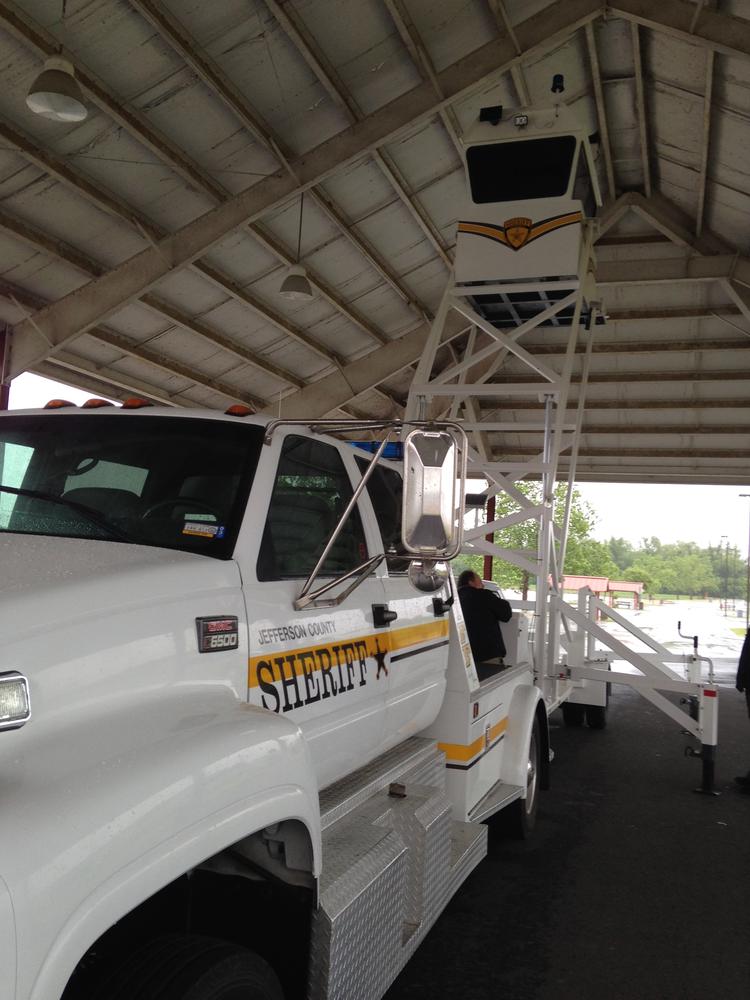 FOR IMMEDIATE RELEASE
MEDIA CONTACT
Major Lafayette Woods, Jr.
Operation Commander/Public Information Officer
870.541.5351-OFFICE/870.329.5652-CELL
Email: lafayette.woods@jeffcoso.org
JEFFERSON COUNTY SHERIFF'S OFFICE ENHANCING PHYSICAL SECURITY WITH NEWLY PURCHASED SKYWATCH MOBILE OBSERVATION TOWER: Jefferson County, Arkansas - May 14, 2014- The Jefferson County Sheriff's Office will now have a bird's eye view thanks to a newly purchased Skywatch Mobile Observation Tower.
The sheriff's office unveiled the "Skywatch" mobile observation tower today at Saracen Landing in Pine Bluff, AR. The skywatch tower is a mobile surveillance tower that provides more than a twenty-five foor high observation platform, which can be placed almost anywhere it is needed.
When considering the numerous surveillance operations and response to critical incidents by the Jefferson County Sheriff's Office, the Skywatch tower will enhance physical surveillance and infrastructure systems capabilities all while providing a greater vantage point with increased aerial coverage during deployment.
The primary use for the tower will be to increase overall physical security to deter crime and use in disaster response by providing a mobile unit with a suite of surveillance imagers and sensors. The Jefferson County Sheriff's Office also intends to deploy the tower in other areas of Jefferson County throughout the year for crime prevention projects and to assist with managing large crowds during special events such as parades, athletic events, marathons, the Jefferson County Fair and rodeo.
The Skywatch tower has integrated sensors including cameras, IR cameras, Public Address System that is specifically tailored for use in the mobile observation tower. The Skywatch tower provides the additional line of sight, command and control capabilities, for constant deterrence with nearly unlimited location flexibility and is ideal for high security operations to include crowd control, emergency response, long-range surveillance and VIP/Dignitary protection.
The total cost for the unit was $143,024.14; however, the Skywatch tower was purchased through a competitive application proposal for Homeland Security Grant Program for Law Enforcement Terrorism Prevention Activities administrated by the Arkansas Department of Emergency Management (ADEM).