8th ANNUAL SHERIFF'S FUN DAY & FISHING DERBY FOCUSES ON YOUTH
05/17/2014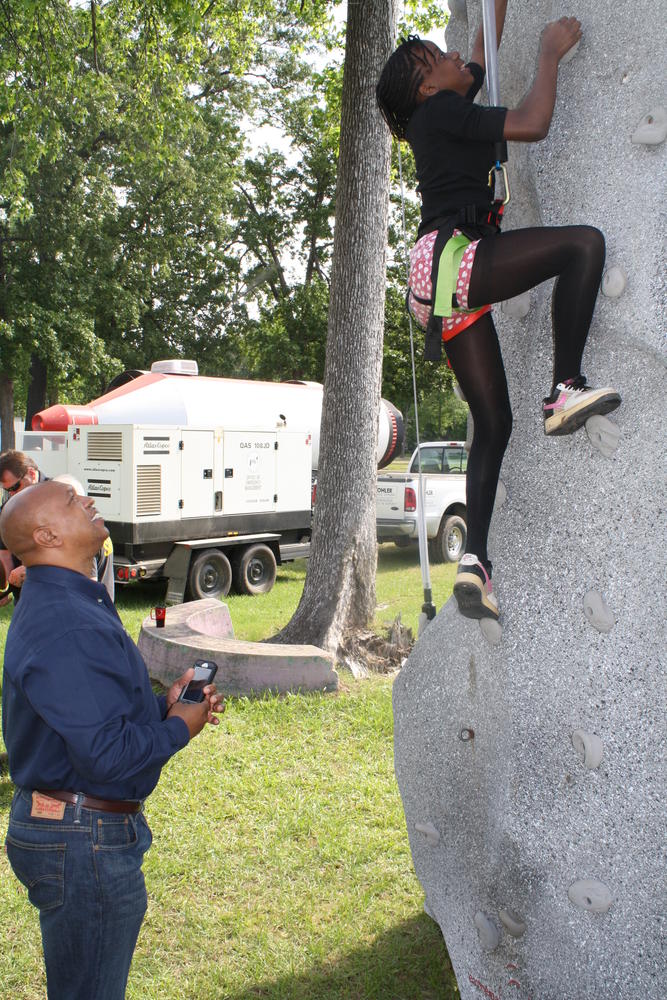 PICTURED ABOVE: Sheriff Gerald Robinson watches as a young participant try's to navigate up a rock climbing wall at this year's 8th Annual Sheriff's Fun Day & Fishing Derby benefiting the youth and family on Saturday, May 17th 2014 at Martin Luther King, Jr. Park in Pine Bluff, AR.

FOR IMMEDIATE RELEASE
MEDIA CONTACT
Major Lafayette Woods, Jr.
Operation Commander/Public Information Officer
870.541.5351-OFFICE/870.329.5652-CELL
Email: lafayette.woods@jeffcoso.org
8th ANNUAL SHERIFF'S FUN DAY & FISHING DERBY FOCUSES ON YOUTH: Jefferson County, Arkansas - May 17, 2014-The Jefferson County Sheriff's Office hosted their 8th Annual Sheriff's Fun Day event to benefit the youth in Jefferson County. "Often times when children and their parents encounter law enforcement or public safety personnel it is as a result of a 911 call. Today was an opportunity for local children and their parents to interact with deputies and participate in field day type of activities outside of a 911-call for assistance, said Sheriff Gerald Robinson
Deputies, volunteers, and various other supporters were present to set up various events including a pirate ship, inflatable bounce houses, Astroliner, as well as a live petting zoo, rock climbing wall among others. Sheriff's Fun Day also included an appearance the Pine Bluff Fire and Emergency Service, who had their Fire Safety House on display. Free food and drinks was supplied by the Sheriff's Reserve Unit and Brookshire's along with snow cones, popcorn, and cotton candy.
"Sheriff's Fun Day has helped shape Sheriff's Fun Day to ensure Jefferson County youth have strong figures to help guide them. Today, deputies and other public safety personnel were able to assist with Sheriff's Fun Day and help guide our youth, as they are our future and we must continue to invest in them. Thanks to the generous support of our sponsors, the participants and our dedicated volunteers the event was a wonderful success," said Sheriff Robinson.
Sponsors Include: Simmons First National Bank, Wal-Mart, Anderson Electric, Jeremy's Auto Body, Harold Pointer Auto Service, Inc., Pine Bluff Sand & Gravel, B.R.A.V.E., Ralph Robinson & Son, Douthit's Radio Service, Inc., Kinds Highway Baptist Church, Gene McKissic & Associates, Relyance Bank, Fire Extinguisher Sales & Services, Newton, Owen, Boyd & Smoke, Ltd., Brown Funeral Home, Jenkins Memorial Center, Pine Bluff Truck & Trailer, Scallion's, Arkansas Police Products, Dane's Auto Sales, Brad Roberts Plumbing, Pine Federal Credit Union, Romero's Lawn Service.

Event Photo's:
https://www.dropbox.com/sh/dlwbsh2s4x0o6ky/AAC_dlsp1McvEttJFZhFSJGTa/Event%20Photo%27s