SHERIFF'S OFFICE PARTICIPATING IN "CLICK IT OR TICKET" CAMPAIGN THROUGH MEMORIAL DAY
05/22/2014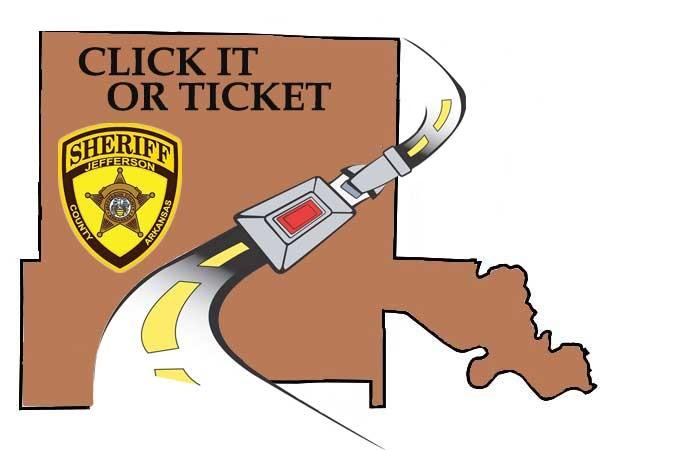 FOR IMMEDIATE RELEASE
MEDIA CONTACT
Major Lafayette Woods, Jr.
Operation Commander/Public Information Officer
870.541.5351-OFFICE/870.329.5652-CELL
Email: lafayette.woods@jeffcoso.org
JEFFERSON COUNTY SHERIFF'S OFFICE PARTICIPATING IN "CLICK IT OR TICKET" CAMPAIGN THROUGH MEMORIAL DAY: Jefferson County, Arkansas - May 22, 2014-"Memorial Day weekend is one of the busiest traffic weekends in the Natural State. We would like to remind everyone to be careful. Through June 1, 2014, the Sheriff's Office will be participating in a nationwide effort over the next couple of weeks to more diligently enforce seat belt and child restraint laws. Deputies routinely enforce these laws, but during this mobilization, there will be extra patrols on the streets and county roadways specifically looking for seat belt violators".
"The decision not to wear a seat belt while operating a motor vehicle is always perilous to a motorist health, but for the remainder of the month it will represent a little extra danger to the wallets and pocketbooks of those who chose not to wear them".
Among motorists who were involved in a crash, those who were unrestrained were almost eight times more likely to require hospitalization. Unrestrained motorists are five times more likely to suffer traumatic brain injury.
2013 statistics reported by the U.S. Department of Transportation National Highway Traffic Safety Administration (NHTSA) showed that southern geographic region, which includes Arkansas, had an overall 87% in seat belt usage by motorist and/or occupants in 2013 compared to 85% in 2012.
Arkansas is among 33 States that has a "primary enforcement law" for motorist and/or occupants, who can be ticketed simply for not using their seat belts. Seat belt use continues to be higher in States where vehicle occupants can be pulled over solely for not using seat belts as compared with States with weaker enforcement laws or without seat belt laws.
Enjoy your weekend. You will see a heavy law enforcement presence on the roadways all weekend. Additionally, Sheriff's Reserve Deputies are expected to deploy Patrol Boats to navigate through our waterways.

Pictured Above: Deputy Sheriff Specyal Mills along Highway 270 in Jefferson County making contact with a motorist, who was stopped for not wearing a seat belt.