JEFFERSON COUNTY MAN WANTED FOR 1ST DEGREE BATTERY FOLLOWING JAIL BRAWL THAT LEFT ONE DETAINEE HOSPITALIZED
07/21/2014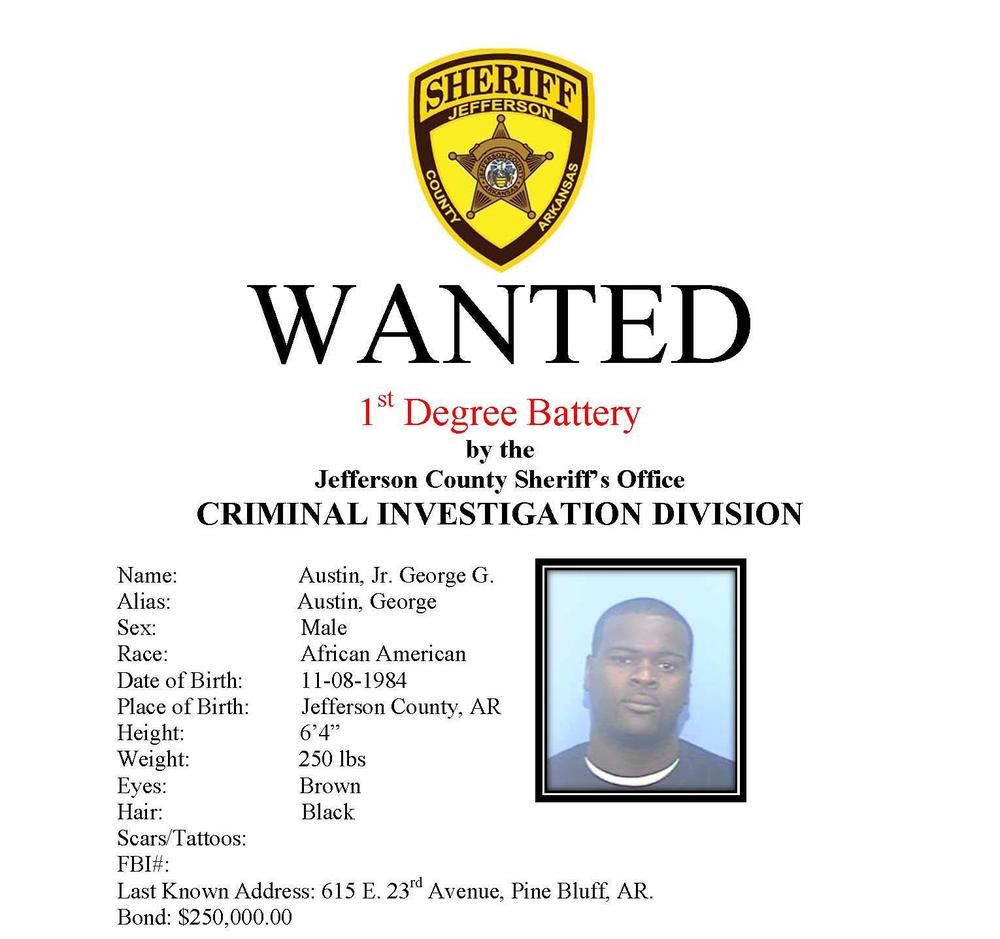 FOR IMMEDIATE RELEASE
MEDIA CONTACT
Major Lafayette Woods, Jr.
Operation Commander/Public Information Officer
870.541.5351-OFFICE/870.329.5652-CELL
Email: lafayette.woods@jeffcoso.org
JEFFERSON COUNTY MAN WANTED FOR 1ST DEGREE BATTERY FOLLOWING A JAIL BRAWL THAT LEFT ONE DETAINEE HOSPITALIZED: Jefferson County, Arkansas - July 21, 2014- The Jefferson County Sheriff's Office Criminal Investigation Division is seeking the public's help in locating George A. Austin, Jr. (29) for 1st degree battery that occurred on Monday, June 16, 2014 at the W.C. "Dub" Brassell Jefferson County Detention Center.
Austin and former detainee, Paul Washington (42) were involved in an altercation that turned physical after Washington reportedly tried to aid in the defense of his brother (Malcomb Hadley), who at the time was also being held at the detention center.
Following the brawl, Washington was released from custody and transported to Jefferson Regional Medical Center to seek medical attention for his injuries. Washington underwent emergency surgery; however, his condition has not improved.
A bond of $250,000.00 has been set for Austin. Never attempt to apprehend a wanted person or fugitive yourself. Anyone with information on Austin's whereabouts or on the incident that occurred, should contact Investigator Jennifer Carr at the Jefferson County Sheriff's Office Criminal Investigation Division by dialing (870) 541-5496 from 8am to 5pm or 24/7 at (870) 541-5300 (non-emergency) with reference title "George Austin, Jr." Tips can also be forwarded via the internet by visiting www.jeffcoso.org and scrolling down to the section entitled Crime Tip Hotline or Submit Via Email and click on the link, which will enable citizens to submit the tips via email to tips@jeffcoso.org.