JEFFERSON COUNTY SHERIFF'S OFFICE DEPUTIES INVESTIGATE SINGLE VEHICLE FATALITY CRASH
08/17/2014
FOR IMMEDIATE RELEASE
MEDIA CONTACT
Major Lafayette Woods, Jr.
Operation Commander/Public Information Officer
870.541.5351-OFFICE/870.329.5652-CELL
Email: lafayette.woods@jeffcoso.org
JEFFERSON COUNTY SHERIFF'S OFFICE DEPUTIES INVESTIGATE SINGLE VEHICLE FATALITY CRASH: Jefferson County, Arkansas - August 17, 2014-On August 17, 2014, at approximately 6:34 p.m., Jefferson County Sheriff's Office (JCSO) Deputies responded to a single vehicle crash near 1105 River Road. Upon the arrival of emergency personnel and deputies, they located an overturned vehicle in the middle of River Road near Jessica Drive just outside the city limits of Redfield, Arkansas.
Redfield, Arkansas resident Cody L. Farley (17), who was a rear passenger in the vehicle was ejected and found outside the vehicle. Farley was unresponsive and immediately transported by ambulance to the Jefferson Regional Medical Center, where he was later pronounced dead.
The driver of the vehicle was identified as William Cook (26) and the front seat passenger was identified as Kimberly Cook, sister of William Cook and girlfriend of Farley.
The JCSO Criminal Investigation Division is investigating and it appears that speed was the likely factor in the crash. The initial accident investigation along with witness statements revealed that the vehicle driven by Cook was traveling east along River Road in excess of 100 mph, when Cook and his passengers passed a pedestrian identified as Phillip Goss (33), also of Redfield, Arkansas.
Goss reportedly signaled for Cook to slow down. However, Cook passed Goss and continued east along River Road for a short distance before making a U-turn and traveling west on River Road. Cook's vehicle reached Goss, who reportedly walked out into the roadway. In an attempt to avoid striking Goss, Cook maneuvered his vehicle in the opposite direction. In doing so, Cook's vehicle spun out of control and left the roadway at 1109 River Road. The vehicle flipped approximately 5 times and traveled approximately 550 feet before coming to rest in the middle of River Road at Jessica Drive.
Goss was administered a portable breath test, which returned a reading of 0.186, more than twice the legal limit. Goss was arrested and transported to the W.C. "Dub" Brassell Jefferson County Adult Detention Center, where he was booked in on charges of public intoxication and an active arrest warrant for failure to appear. This fatality accident investigation is on-going.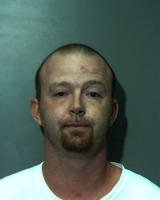 Phillip Goss (33)