JEFFERSON COUNTY SHERIFF'S OFFICE WARN RESIDENTS OF ARREST WARRANT AND JURY DUTY TELEPHONE SCAMS
08/25/2014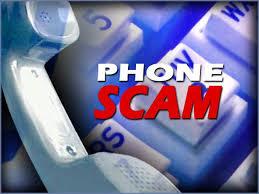 FOR IMMEDIATE RELEASE
MEDIA CONTACT
Major Lafayette Woods, Jr.
Operation Commander/Public Information Officer
870.541.5351-OFFICE/870.329.5652-CELL
Email: lafayette.woods@jeffcoso.org
JEFFERSON COUNTY SHERIFF'S OFFICE WARN RESIDENTS OF ARREST WARRANT AND JURY DUTY TELEPHONE SCAMS: Jefferson County, Arkansas – August 25, 2014-An 81-year-old elderly Jefferson County man was among several others Jefferson County residents that received a call today from a man who identified himself as Sergeant Harper and Corporal Edwards with "Jefferson County Sheriff's Office" and advised that residents had active warrants for contempt of court and failure to appear for jury duty.
During one call, the caller advised the 81-year-old that the warrants would be dismissed if he paid the fines. The daughter of the elderly man contacted the sheriff's office to confirm, at which time she quickly learned that her father had been preyed upon by a scammer.
Another would be victim, who was also elderly was advised that she had an outstanding warrant for her arrest for failure to appear for jury duty. She was then instructed by the caller to obtain a pre-paid credit card and provide the card number over the phone in order to satisfy payment for the fines.
One caller stated that the scammer even mentioned Jefferson County Circuit Judge Berlin Jones as the issuing judge for the warrant. "Our warrants division visited with Judge Jones along with two would be victims and confirmed that no warrants for failure to appear or contempt of court had been issued by his office.
"These calls were just two of many that our office received today regarding residents being targeted by telephone scammers attempting to extort money out of elderly victims. Residents should remember that sheriff's deputies and law enforcement officers alike that are officers of the court will never call and ask for personal or financial information over the telephone nor will they suggest that warrants can be satisfied by purchasing a pre-paid credit card. Residents should never send any money via wire transfer for such request."
"Scammers commonly use "spoof" telephone numbers, so that it appears that the call originated or was in-coming from a legitimate organization. Spoofing is when scammers use a device that will allow the telephone network to display a number on the recipients' caller ID display that is not the actual originating organization or entity. We stress the importance of never providing a strange caller your personal information, such as dates of birth, social security number and banking information. More importantly, never let strange callers know that you are home alone or whether or not you have an alarm system."
If you receive a suspicious phone call, hang up and contact the Jefferson County Sheriff's Office's non-emergency communications line at (870) 541-5300 to determine if a sheriff's deputy has attempted to contact you.