SHERIFF'S OFFICE MOURNS LOSS OF DEPUTY
10/20/2014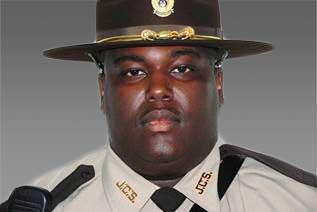 FOR IMMEDIATE RELEASE
MEDIA CONTACT
Major Lafayette Woods, Jr.
Operation Commander/Public Information Officer
870.541.5351-OFFICE/870.329.5652-CELL
Email: lafayette.woods@jeffcoso.org
SHERIFF'S OFFICE MOURNS LOSS OF DEPUTY: Jefferson County, Arkansas – Monday, October 20, 2014 – The Jefferson County Sheriff's Office is mourning the passing of Deputy Sheriff Dedrick Mustiful (34), who died early Sunday morning. "It is with profound sadness that we remember the passing of Deputy Mustiful. It is also the sense of our agency to convey its grateful appreciation and heartfelt regret in recognition of the loss of Deputy Mustiful, who selflessly dedicated his purposeful life and career in faithful service to his family and to the Jefferson County Sheriff's Office."
Having being employed with our agency since January 16, 2014, Deputy Mustiful served with dedication, loyalty and compassion, and devoted his life and career to serve and protect. During his initial employment, Deputy Mustiful was assigned to the Transport Division and later transferred to the Uniformed Patrol Division following his completion of law enforcement training.
Deputy Mustiful mentored many youth over his career helping to mold them into responsible professionals.
"Deputy Mustiful was well respected amongst his peers and fellow deputies; the Jefferson County Sheriff's Office benefited from his loyalty and commitment to the safety of the community and the citizens that we are sworn to protect."
"Deputy Mustiful was a dedicated public servant who performed his duties in a manner that bought honor to the entire agency and law enforcement profession. He leaves behind a legacy which will long endure the passage of time and will remain as a comforting memory to all he served and befriended; Deputy Mustiful will be deeply missed and truly merits the grateful tribute of this agency.
"Let it be known that this agency pause in its operations to mourn the untimely death of Deputy Mustiful, noting the significance of his contributions on behalf of the members of the Jefferson County Sheriff's Office and expressing its deepest condolences to his family."
Deputy Mustiful was 34 years old and leaves behind a fiancee, Sonia Townsend, and daughter Makiya Mustiful.
Funeral arrangements are set to be announced.