SHERIFF'S OFFICE OFFERS THANKSGIVING SAFETY TIPS
11/24/2014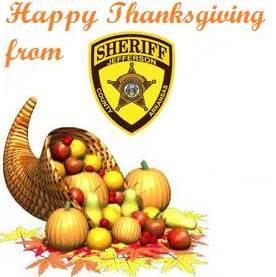 FOR IMMEDIATE RELEASE
MEDIA CONTACT
Major Lafayette Woods, Jr.
Operation Commander/Public Information Officer
870.541.5351-OFFICE/870.329.5652-CELL
Email: lafayette.woods@jeffcoso.org
JEFFERSON COUNTY SHERIFF'S OFFICE OFFERS THANKSGIVING SAFETY TIPS: Jefferson County, Arkansas – November 24, 2014-Many citizens display their holiday cheer by decorating their homes with décor that matches the season. However, many items utilized to decorate homes provide potential burglars or thieves access to homes.
An example of an item that could potentially provide such access to a home is a ladder commonly used by homeowners for cleaning leaves out of gutters. A ladder could be used by a burglar or thieve to enter a window or scale a fence.
Some additional safety tips include the following:
Refrain from posting Thanksgiving travel plans on any social media site that could potentially alert a burglar that you are not home.

Adjust your answering machine voice message to not say that you are going away for the holiday.

Ensure that all mail is being picked up by a relative, friend, or neighbor.

Do not leave keys hidden outside home.

Secure all windows and clear away tree branches or debris that may obscure any window view of the home.

Have a relative, friend, or neighbor occasionally move the vehicles parked in the driveway of the residence.

Utilize timers to operate interior and exterior lighting.

Consider purchasing a web-based security system that allows off-site or remote activation and deactivation.