SEARCH CONTINUES FOR MAN ACCUSED OF BEATING ANOTHER MAN WHILE SERVING TIME INSIDE A JEFFERSON COUNTY JAIL
02/11/2015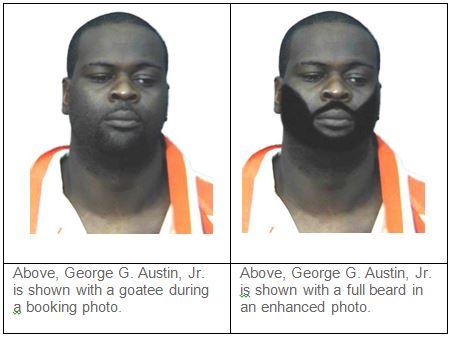 FOR IMMEDIATE RELEASE
MEDIA CONTACT
Major Lafayette Woods, Jr.
Operation Commander/Public Information Officer
870.541.5351-OFFICE/870.329.5652-CELL
Email: lafayette.woods@jeffcoso.org
SEARCH CONTINUES FOR MAN ACCUSED OF BEATING ANOTHER MAN WHILE SERVING TIME INSIDE A JEFFERSON COUNTY JAIL: Jefferson County, Arkansas – February 11, 2015-Jefferson County authorities are still searching for a man charged in the 2014 beating death of Paul Washington (42).
George G. Austin, Jr. (30) is believed to have fled Jefferson County after being released on bond following his court ordered sentence of 365 days to confinement in the W.C. "Dub" Brassell Adult Detention Center (DBDC) for a probation revocation.
Austin was last seen in Jefferson County; however, it is believed that he may be living in or near the Dallas, TX area.
On July 16, 2014, Austin and Washington both former detainees being housed at DBDC were involved fight after Washington attempted to aid in the defense of his brother (Malcomb Hadley), who at the time was also being held at the detention center. Both Washington and Hadley sustained injuries as a result of the fight with Washington's injuries being more severe than Hadley.
Washington was released from custody and transported to Jefferson Regional Medical Center, where he underwent emergency surgery; however, Washington's condition showed little improvement. Washington succumbed to his wounds and died at a private health care facility on September 18, 2014.
Austin has tattoos on his res / left forearm. Additionally, Austin may have grown a full beard in order to disguise his overall appearance.
Anyone with information concerning Austin's whereabouts is asked to contact Investigator-Lieutenant Jennifer Carr at the Jefferson County Sheriff's Office Criminal Investigation Division by dialing (870) 541-5496 from 8am to 5pm or 24/7 at (870) 541-5300 (non-emergency) with reference title "George Austin, Jr." Tips can also be forwarded via the internet by visiting www.jeffcoso.org and scrolling down to the section entitled Crime Tip Hotline or Submit Via Email and click on the link, which will enable citizens to submit the tips via email to tips@jeffcoso.org.