DOG RESCUED DURING "BUSY BEE PETS" PUPPY MILL BUST IN JEFFERSON COUNTY, ARKANSAS GETS A NEW LEASE ON LIFE AFTER RESCUE
02/19/2015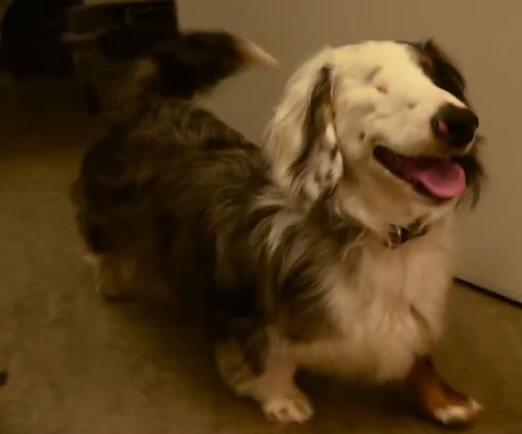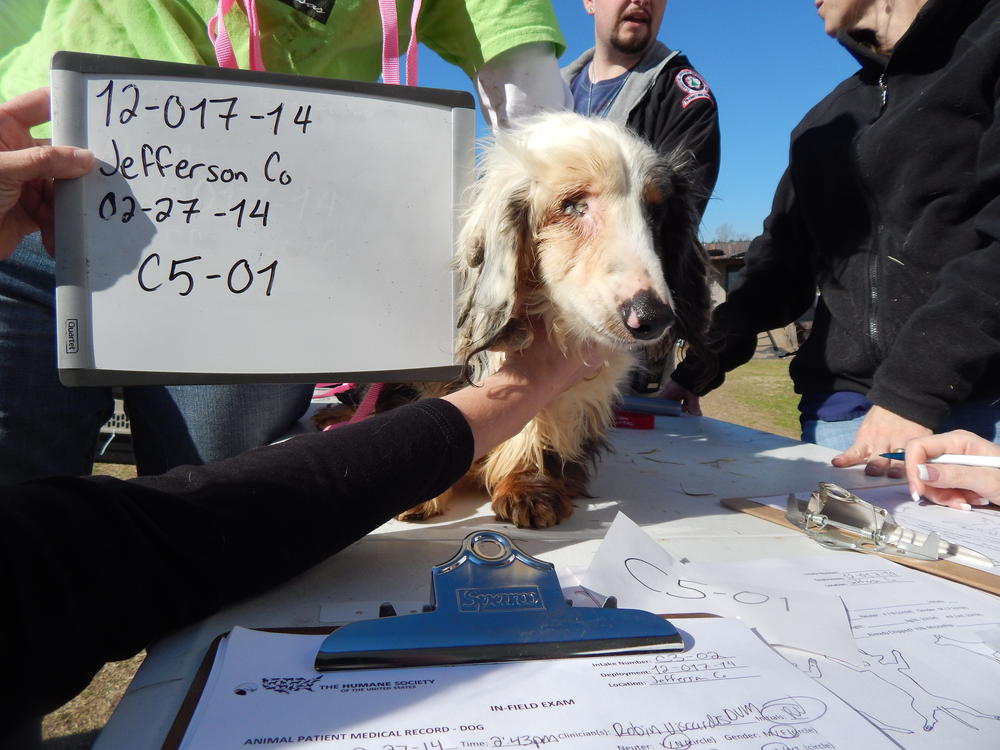 FOR IMMEDIATE RELEASE
MEDIA CONTACT
Major Lafayette Woods, Jr.
Operation Commander/Public Information Officer
870.541.5351-OFFICE/870.329.5652-CELL
Email: lafayette.woods@jeffcoso.org
DOG RESCUED DURING "BUSY BEE" PUPPY MILL BUST IN JEFFERSON COUNTY, ARKANSAS GETS A NEW LEASE ON LIFE AFTER RESCUE: Jefferson County, Arkansas – February 20, 2015-"Rescue No. C5-01 as we once knew him or Corey as we now know him has been given a new lease on life thanks in part to the efforts of our dedicated group Deputies and Criminal Investigators assisted by the Humane Society of the United States (HSUS) and the 11th Judicial Prosecuting Attorney's Office here in Jefferson County, Arkansas."
"Through a review of adoption status and health/welfare reports along with current video embedded below of Corey's social interactions with people provided to our agency by the HSUS, Corey can be seen displaying his tremendous will and unwavering confidence in human."
Today we see Corey's first true display for the since of being cared for and loved. Unbelievably, Corey spent his time living in a cage with little human interaction and deplorable conditions. Corey was found with fecal mats on both eyes. Examining veterinarians found that Corey was suffering from microphthalmia and recommended enucleation to remove both eyes because of his condition.
Almost one year ago, Corey was 1 of 120 dogs along with 22 equine (6 pregnant), 30 chickens, 16 exotic birds, 12 rabbits, and 2 turtles rescued from a Jefferson County, Arkansas couple that were operating an illegal puppy mill called "Busy Bee Pets" located on approximately 40 acres of land in the 1300 block of Mail Route Road in Jefferson County, Arkansas.
James and Tara Best were both cited for violation of Arkansas Code Annotated A.C.A. § 5-62-103 Cruelty to animal, which is defined as "Knowingly abandons any animal, subjects it to cruel mistreatment or cruel neglect, or kills or injures an animal without the owner's consent." Cruelty to animals is a Class A Misdemeanor punishable with a fine no less than one hundred fifty dollars ($150.00) and no more than one thousand dollars ($1,000) and/or imprisonment up to 1 year in jail.
On March 13, 2014 James and Tara Best accompanied by their attorney, Mr. Birc Morledge appeared in Jefferson County District 1 Court before the Honorable Judge Kimberly C. Bridgforth. Acknowledging that they understood the nature of the charges levied against them and the potential punishment they could receive if convicted of the charges, both James and Tara Best knowingly and voluntarily waived their right to a public trial. In lieu of a public trial, both indicated their desire to enter pleas of nolle contendre to counts 1 through 10, which the court found James and Tara Best guilty of after finding that their pleas were knowingly and voluntarily made. The State's motion to nolle prosse Counts 11 through 186 was granted. The court imposed a sentence of one (1) year probation in lieu of one (1) year confinement in the W.C. "Dub" Brassell Adult Detention Center. The court also fined James and Tara Best $2,000.00 each, to be paid in full not later than the March 21, 2014. Also during the term of probation, James and Tara Best are prohibited from owning or possessing any domesticated or wild animals for any reason. The couple is also prohibited from committing any further criminal acts.
"I remember that day. Many animals rescued appeared to have been without access to food, water and necessary veterinary care. Some animals were in small filthy crates that were inadequate for their sizes, dozens more running loose among piles of garbage on urine-soaked and feces-covered floors in mobile homes positioned on the property. These animals were living in a house of horrors, with an overwhelming stench of ammonia and an unbelievable buildup of feces all over."
Corey like many other animals rescued from "Busy Bee Pets" were in serious need of food and immediate medical care; some more series than others. This rescue operation coupled with HUSU's professional team and their ability to care for Corey brought out the inner puppy in him.
"I can't imagine what Corey went through but as an agency with limited resources to address problems like animal cruelty or illegally operated puppy mills, we are so thankful for the HSUS and its team of veterinarians and support staff for assisting in this major undertaking."
Now, living life without sight, Corey is enjoying his happily ever in Maryland. Watch how far Corey has come. You can view the video below.