PARTIAL CEILING COLLAPSE IN BUILDING OCCUPIED BY SHERIFF'S OFFICE PERSONNEL DOWNTOWN; PINE BLUFF, AR
03/16/2015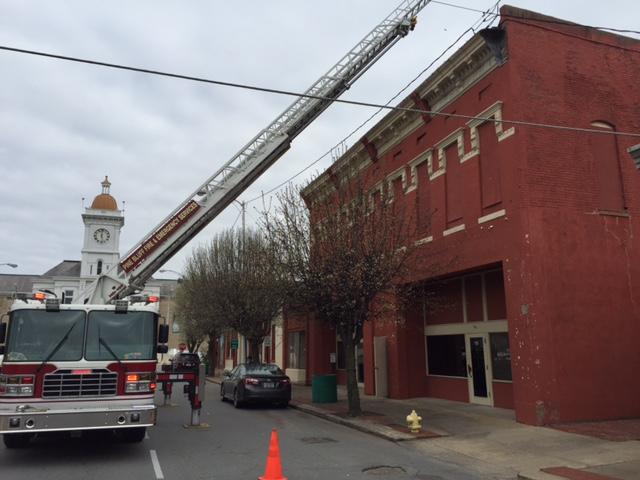 FOR IMMEDIATE RELEASE
MEDIA CONTACT
Major Lafayette Woods, Jr.
Operation Commander/Public Information Officer
870.541.5351-OFFICE/870.329.5652-CELL
Email: lafayette.woods@jeffcoso.org
PARTIAL CEILING COLLAPSE IN BUILDING OCCUPIED BY SHERIFF'S OFFICE PERSONNEL DOWNTOWN MAIN STREET; PINE BLUFF,AR: Jefferson County, Arkansas – March 16, 2015 - Several of members of personnel with the Jefferson County Sheriff's Office arrived for work this morning and found that a partial ceiling leading into the southeast hallway of 117 Main Street in downtown Pine Bluff, AR had collapsed. No injuries were reported; however, Pine Bluff Fire & Emergency Services crews arrived on scene to assess the building as it relates to the safety of the Technical Services Division and other personnel whom still occupy the building. "117 Main Street also houses the Sheriff's Office Evidence Section, which is an added concern of mine," said Sheriff Gerald Robinson.
Following news stories and repeated reports from employees of instances involving bricks and ceiling tiles collapsing on employees and offices, the Jefferson County Quorum Court voted and approved an Appropriation Ordinance for $1,677.000.00 towards the initial construction cost of the multi-million dollar construction project. With subsequent appropriations to include four (4) currency forfeitures totaling $275,000.00 from the Department of Justice's Equitable Sharing Program, private donations and monies received from the sale of over 700 weapons at a public auction last year, an estimated $2.19 million has been appropriated towards the construction of the building to date. However, the building still remains incomplete years later. Meanwhile, construction costs continue to fluctuate.
"Built in the early 1880's, this building still poses major safety concerns for personnel who still occupy the building. Recent and continued heavy rain patterns add to a deteriorating building that we must vacate completely."