MAN MAULED TO DEATH BY PIT BULL TERRIERS
03/21/2015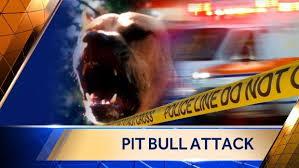 FOR IMMEDIATE RELEASE
MEDIA CONTACT
Major Lafayette Woods, Jr.
Operation Commander/Public Information Officer
870.541.5351-OFFICE/870.329.5652-CELL
Email: lafayette.woods@jeffcoso.org
MAN MAULED TO DEATH BY PIT BULL TERRIERS: Jefferson County, Arkansas – March 21, 2015 - Jefferson County Sheriff's Office Criminal Investigators are investigating the death of De'trick O. Johnson (36) of Pine Bluff, AR.
At 9:53 A.M., Jefferson County Sheriff's Office Deputies responded to the report of a dog attack at CJ's Garage located in the 300-block of North Thomas Road in Pine Bluff, AR.
Upon arrival, a Jefferson County Sheriff's Office Deputy encountered 1 of the pit bull terriers, who immediately charged his patrol vehicle. The deputy deployed his Taser. However, the Taser had no effect on the dog, forcing the deputy to use lethal force and shot the dog.
Additional deputies arrived along with Pine Bluff Animal Control in an attempt to corral the aggressive dogs. Authorities were successful in securing 2 of the dogs; however, 4 of the pit bull terriers were shot and killed and another managed to evade capture. Investigators learned through a preliminary that Johnson arrived at the garage to meet the owner, John Chester Smith (63), who lived in neighboring structure. Immediately upon his arrival, Johnson was attacked by 7-pit bull terriers owned by Smith. A neighbor, who witnessed the attack immediately called 911 for help and deputies immediately responded.
"This incident furthers the stigma of pit bull terriers as aggressive and dangerous animals. However, each dog, regardless of breed, could potentially cause serious injury or death. Pit bull terriers in general, I have found in personal experiences, are just very loyal. They're very intelligent but can prove to be lethal weapons if they land in the hand of irresponsible owners, who either promote dog fighting or ignore obvious signs of aggression."
No arrests have been made in connection with this incident. However, the investigation is on-going and upon completion will be forwarded to the 11th Judicial West Prosecuting Attorney's Office for review and possible criminal prosecution.