9th ANNUAL SHERIFF'S FUN DAY POSTPONED DUE TO INCLEMENT WEATHER ADVISORY
05/12/2015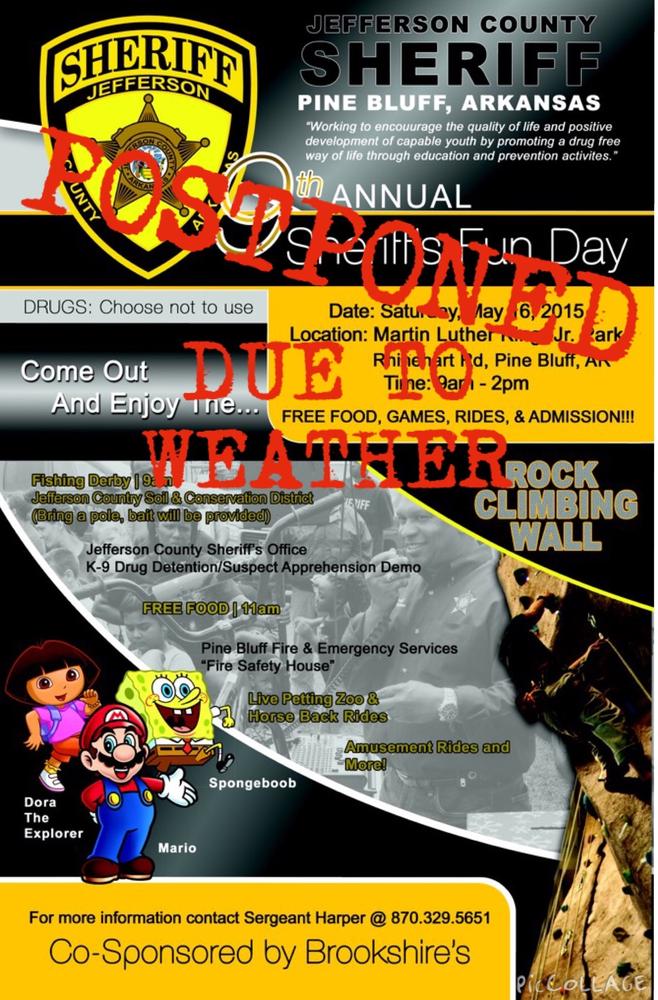 FOR IMMEDIATE RELEASE
MEDIA CONTACT
Major Lafayette Woods, Jr.
Operation Commander/Public Information Officer
870.541.5351-OFFICE/870.329.5652-CELL
Email: lafayette.woods@jeffcoso.org
9th ANNUAL SHERIFF'S "DRUG FREE" FUN DAY POSTPONED DUE TO INCLEMENT WEATHER ADVISORY: Jefferson County, Arkansas – May 12, 2015 – We regret to inform you that we will have to postpone our 9th Annual Sheriff's Fun Day, which was due to be held on Saturday, May 16, 2015 at Martin Luther King Jr. Park in Pine Bluff, AR.
Following consultation with our local weather authorities and meteorologists, it was determined that the recent spate of bad weather and the effect that the persistent rain has had on park grounds has caused it to become waterlogged to such an extent that it would pose a risk to the amusement rides and other attractions that were due to attend. Unfortunately, these were circumstances which were beyond our control.
Therefore, on behalf of Sheriff Robinson and the event committee, I would like to apologize for the cancellation, especially to those of you who have already made travel and accommodation plans. We would like to also apologize for this inconvenience but we are sure that you understand that the safety of you and your family is of utmost importance and concern for us.
The event has been rescheduled for Saturday, June 13, 2015 at 9:00 a.m. – 2:00 p.m. at Martin Luther King Jr. Park located at 809 N. Haverty Street in Pine Bluff, AR.