SHERIFF'S OFFICE RESPONDS TO MEDIA INQUIRY IN THE WAKE OF PRESIDENT OBAMA'S RECENT ANNOUNCEMENT TO BAN THE GOVERNMENT FROM TRANSFERRING MILITARY-STYLE EQUIPMENT TO POLICE
05/19/2015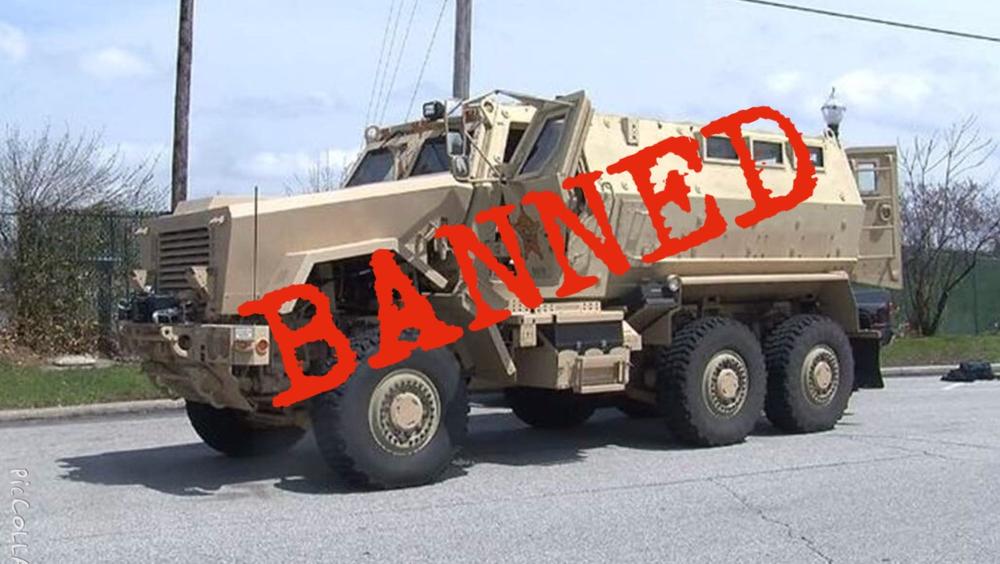 FOR IMMEDIATE RELEASE
MEDIA CONTACT
Major Lafayette Woods, Jr.
Operation Commander/Public Information Officer
870.541.5351-OFFICE/870.329.5652-CELL
Email: lafayette.woods@jeffcoso.org
SHERIFF'S OFFICE RESPONDS TO MEDIA INQUIRY IN THE WAKE OF PRESIDENT OBAMA'S RECENT ANNOUNCEMENT TO BAN THE GOVERNMENT FROM TRANSFERRING MILITARY-STYLE EQUIPMENT TO POLICE: Jefferson County, Arkansas - May 19, 2015 - Much of demilitarized items acquired by local law enforcement through the Law Enforcement Support Office (LESO) 1033 Excess Property Program administered through the Department of Defense (DoD) have a justifiable use domestically.
Our continued defense of the 1033 Excess Property Program comes after Fox 16 News Reporter, Kevin Kelley contacted our office in hopes of getting a response from our agency along with Pulaski County Sheriff's Office in reference to President Obama's recent surprise announcement at an Organizing for Action summit in Washington about banning certain types of military-style equipment and the possibility of recalling some equipment already distributed to local law enforcement.
President Obama's announcement comes 9-months after law enforcement agencies in Ferguson, MO were quickly criticized for appearing in riot gear, high-powered weapons and what some describe as military-style equipment during protests in response to the shooting of Michael Brown (18) by Ferguson Police Department Officer, Darren Wilson. The White House said that effective immediately, the federal government will no longer fund or provide armored vehicles that run on a track system instead of wheels, weaponized aircraft or vehicles, firearms or ammunition of .50-caliber or higher, grenade launchers, bayonets or camouflage uniforms. Additionally, the federal government is also exploring ways to recall prohibited equipment already distributed.
Despite President Obama's recent announcement, our position on this issue is what is has always been. Law enforcement agencies across the United States benefit greatly from the LESO 1033 Program. It is important to ensure that all understand how much domestic law enforcement agencies rely on the LESO 1033 Program both economically and practically in order to protect their liberties.
Last year, our agency acquired two pieces of demilitarized surplus equipment including a "MARCbot" robot and Mine-Resistant Ambush Protected Armored Vehicle "MRAP" from the federal government; none of which is meant for routine patrol. However, our acquisition of the two did not come without some scrutiny. The MARCbot and MRAP both serve as great benefits to our agencies Special Response Team, while offering immediate situational awareness and maximum ballistic protection for deputies and other first responders in critical situations. With its ruggedized design, the MRAP can also be used for disaster relief efforts because of its ability to navigate through almost any terrain.
Misconceptions concerning the DoD's 1033 program and domestic use of militarized equipment by local law enforcement is still evident and grossly inaccurate. The impetus for our agencies application for the MRAP was to acquire the vehicle and repurpose it as a ballistic capable rescue/tactical vehicle to enhance officer and citizen safety when responding to active shooter type incidents. Those incidents would be similar to what Grant County Sheriff's Office first responders and deputies encountered last Tuesday after authorities received a call from a deranged Grant County resident, who stated that he intended to set his home on fire. While responding to the scene, sheriff's deputies reported that at least one gun shot was fired at them. Grant County Sheriff's Office deputies were ill-equipped to handle the situation and were forced to request assistance of the Arkansas State Police SWAT Team, who responded with the scene.
As you look across the country at active shooter situations happening every day, Jefferson County is not immune to the type of violence we have become all too familiar with over the past decades. Blacksburg, Va., was a small, quiet, college town with a population of just over 42,000 when a gunman killed 32 people on the Virginia Tech campus in April 2007. Littleton, Colo., home of Columbine High School, is a small Denver suburb of 40,000, where two teenagers went on a rampage, killing 12 fellow students.
Newtown, Conn., a small town of 27,560, is sadly familiar to all of us after 20 children and six adults were gunned down at an elementary school there just over a year ago.
The above-mentioned towns are smaller than Pine Bluff, AR; none of which expected their names to become synonymous with horrific, senseless violence. As the chief law enforcement agency in Jefferson County, we have a responsibility to the residents, businesses and visitors of Jefferson County to think about the unthinkable and to be prepared to take action to protect innocent lives. Our commitment to our community is that under our command we will always do everything in our power to promote the safety of our deputies that place their lives on the line each day so that citizens can have a sense of security."